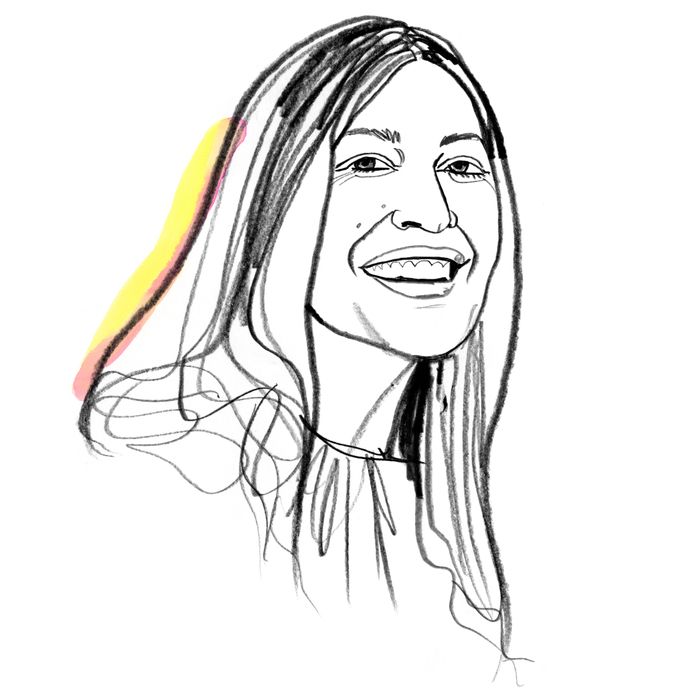 Ulla Johnson.
Illustration: Lauren Tamaki
Ulla Johnson is the founder and creative director of her eponymous clothing line, which she started in 1998, but in the past few years it's become a go-to label for colorful, bohemian staples. She makes prairie dresses you'd actually want to wear, imbued with a modern, feminine sensibility. She lives in New York with her husband, a contemporary art dealer, and her three children. Here's how she gets it done.
On a typical morning: 
I'm up quite early, usually around 6. I try to go for a run in the morning. I live near Prospect Park and it's a beautiful six-mile run from my house. But in the dead of winter, I'm not running so much. Instead, my husband and I are up, getting the kids downstairs, and getting the kids dressed. I have three children, ages 13, 9, and 6, and we make a big deal of having a proper sit down breakfast with real food with the kids. Not just like, cereal, but a proper hot breakfast. It's a really nice family time that we have. And then we have to get the kids to school before eight. My oldest doesn't need a parent to escort him, but we all go together and it's a nice time together. But by the time I get to work at nine I feel like I've had seven lives. I have to have matcha when I get to the office.
On how she works best: 
I'm a hands-on designer. I'm not somebody who does a lot of sitting. I find myself a lot more productive when I'm standing. Honestly I should have a standing desk. I also think a lot of my work is verbally communicated and hands-on. I try to not be so bogged down in answering emails and stuff. We are working collaboratively and not a lot of that involves me sitting at my computer. As far as sketching or creating, I've never been someone who does that on an iPad or on a computer. I'm super visual and tactile, and not a lot of that gets communicated well through the screen.
On finishing the work day:
I feel like I'm always running out of the office in the middle of something. You come to this place where you realize you'll never tick all the boxes and at some point you make the decision that you're leaving and will pick it up the next day. That's a recently learned skill for me. For a long time I felt like I had to be the last one in the office and really feel some sense of a punctuation mark before the day was over.
I try to have a workplace where people don't have to work very late. I care a lot about work-life balance for my team, but also for myself (when it's not fashion week).
On screen time: 
I've tried to institute the policy of putting my phone away when I'm at home. I've been quite draconian about limiting my children's access to screen time and  to say that to your kids and then be on your phone the whole time is not the message I want to send. It's also very hard to be present with them when I have my phone out.
I'm not that good at disconnecting from technology, but I am consciously trying. I have put all those screen time controls on my phone, but I guess I do work on my phone because it's something I can do between meetings or fittings.  It's shocking to see how much that time aggregates and how many times you touch your phone in a day. Even just that awareness is a strong place to start, realizing how much these things creep into every cranny of our lives. More and more I try to leave the phone in a room where I'm not.
On winding down: 
It's quite trite, but I've been trying to develop a real ritual of winding down. Our days are so hyperstimulated. The number of people I engage with every day, there's never a moment of quiet. I try to create that in the evenings for myself — just a little time alone to read a book. I used to be quite an avid literary junkie, which has been harder as my life has broadened in scope and responsibility.
On work-life balance: 
I get asked this question a lot, like, How do you do it all? And the truth is that I don't. I'm at work and 20 percent of me is with my children and answering texts about play dates. There's always that part of you that's not there. And when I'm with my children, I still have the demands of my job. There's some component where the two really do blend and perhaps you never execute either to the degree of perfection you might expect from yourself, but the balance comes from accepting that imperfection.
At the same time, you see how being in the workplace influences your children and how much they look up to it. When my kids come to the fashion shows, I seat them so they're the first people I see and the look of sheer delight in their eyes — it's like, and there's what it's all for.