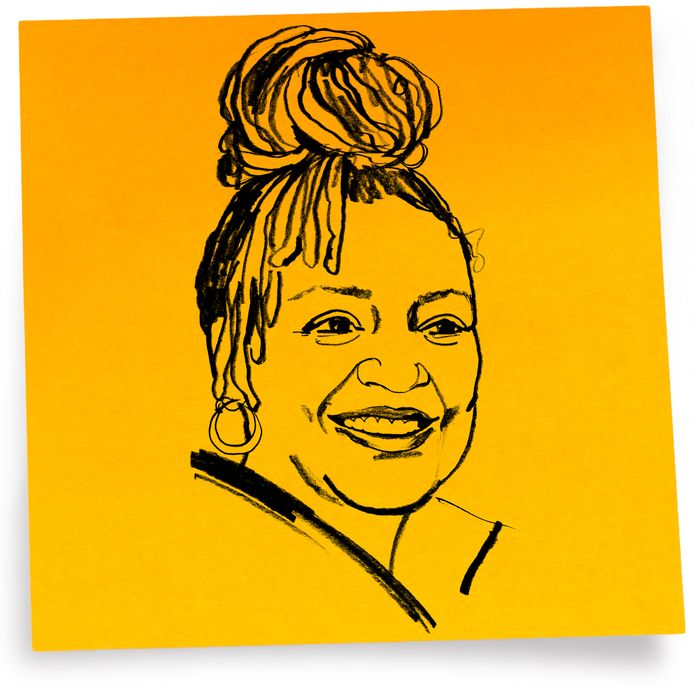 Kasi Lemmons.
Illustration: Lauren Tamaki
Kasi Lemmons is the director and screenwriter of Harriet, the new Harriet Tubman biopic that opened last week. She also directed Madam C.J. Walker, a forthcoming Netflix series about the first African-American self-made millionaire. Having started her career as a child actor (she had a small role in Silence of the Lambs), Lemmons made her directorial debut in 1997 with Eve's Bayou, which received an Independent Spirit Award for Best First Feature. When she's not on set, she teaches at NYU's Tisch School of the Arts. She has four grown children and lives in New York with her husband, actor and director Vondie Curtis-Hall, and their dog. Here's how she gets it done.
On a typical morning:
I wake up around seven, and I try not to check the news or jump right into work. I like to get up, have some coffee, and do what my husband and I call "looking around." I putter, do some light correspondence, and meditate a little bit. Nothing too heavy. I might do some yoga or take a walk in Central Park. I like to have that interaction with people outside before I go back to my house and sit down at my desk. It helps me organize my ideas and think about what I'm going to write that day. But I procrastinate like everybody else. Should I make some more iced tea? What kind of tea should I have? Should I make a combination of teas? I think I'll walk the dog. What are my kids doing? I'll text them. On good days, I'm at my desk by 10 or 11 a.m. I write best in the latter part of the day, mid-morning to late afternoon, and late at night.
On writing:
I spend most of my time writing. I try to do it at least five hours every day. I'm also a professor, and my schedule fills with classes, and students, and meetings. I have to find those five hours carefully. I need a minute to get in the zone, and when I'm in it, I like to stay there and not be interrupted. I try not to check emails. I don't have conversations. I don't listen to music. My family knows when not to talk to me. Even when I was raising kids, I'd say, "No, no. I'm working." Kids are such a wonderful procrastination. When the kids were younger, I would write while they were at school.
On time management:
When I take on a new project, I have a geeky way of managing my time. Believe it or not, I actually look at how many hours it might take me to write a script, because I have to estimate when I'll be able to deliver it. So I'll say, "Okay, this is going to take me 100 hours." With Harriet, I thought, "This might take me 200 hours of research and 100 hours to write." And then I parcel that time out between teaching, or going to meetings, or preparing classes. Okay, four hours here, four hours there, five hours here. Oh, this is a good day, I have eight hours. Then I add up the hours per week and month. An assistant usually helps me with my schedule.
When I'm in production, I put my whole life on hold. I say goodbye to my friends. I do a lot of work to prepare the family for what's coming: "Okay, here are the dates. Let's get these things done now, beforehand." During production, it's very common to do a 12- to 13-hour day, or a 14- or 15-hour day, so you can't really do anything else.
On knowing when to stop working:
One of my really wise writer friends told me a long time ago that I should get up from the computer before I'm completely exhausted. So I'll finish one particular thing that I really wanted to work on — one sequence, or scene, or a string of scenes — and then I get up. I never leave in despair. I like to leave it in triumph, or at least in a satisfying place. Sometimes it might be pretty late, but if I go too late I can't sleep. It takes me a while to unwind my brain. If I write until 10 p.m., I might not be asleep until 2 a.m. And that's not practical. I like to stop by 8 p.m.
On parenting:
We have four kids. I inherited two from my sister [who died of breast cancer in 2011], and I had two. They're all out of the house at this point. I mean, they're still around all the time — one just left to go back to school today. When they were younger, it was incredibly tricky. I had help, which was essential. We had people to pick them up from school, get the bath ready. Then I could decide when I wanted to rejoin the family. I could say, "Okay, I'm done writing now. I can do your hair, read books, or help with homework." It was bittersweet, because I always wanted to be there and engage. But I still knew that I needed to take that writing time.
On being married to another person in the entertainment industry:
I think if it had ever been a conflict, I wouldn't have stayed married. We've been together for a long time, and our marriage has been successful because we encourage each other on a daily basis. If we catch the other person procrastinating, we call them on it. We give ourselves permission to have fun, but we also push each other to be better. I'll be like, "Have you written? Did you get in your pages?" There have been times when we're both directing, or doing films back to back, so there's been a handoff with the kids. We'd say, "Okay, we're both exhausted. Who's handling the home life, and who really has to focus on work?" That's still how we function.
On managing her inbox:
It's really bad. I rarely delete anything, so I currently have 25,938 emails. I look through the pertinent ones that come in, and I'll try and delete the ones that I know I'll never look at again. And I mark things that are important. It's like managing time: You look at what's important and urgent, what's important but isn't urgent, and what's not important. I try and deal with what's urgent and important right away, and then I mark what's important but less urgent, and go back to that later.
On choosing her projects:
I've turned down so much work throughout my life, not because it's wrong, but because it doesn't get under my skin. I don't engage with a project unless I think I won't get tired of it. It takes a really long time to make a screenplay, and if your interest runs out, that's not a good thing. It's only happened to me once in my career of writing many, many screenplays, and it was an icky feeling, and I never want to have it again. I take the work that I want. And that, to me, is powerful.
On directing:
As a director, you do try and control everything. It's a very hands-on job, and you're constantly meddling. But part of the skill is also being attentive enough to recognize magic when it's happening, and not overtalk or become overwhelmed by the million things around you. The job is about concentrating on what you're seeing in front of you, and being still enough to feel the alchemy. If magic is happening, you want to get out of the way.