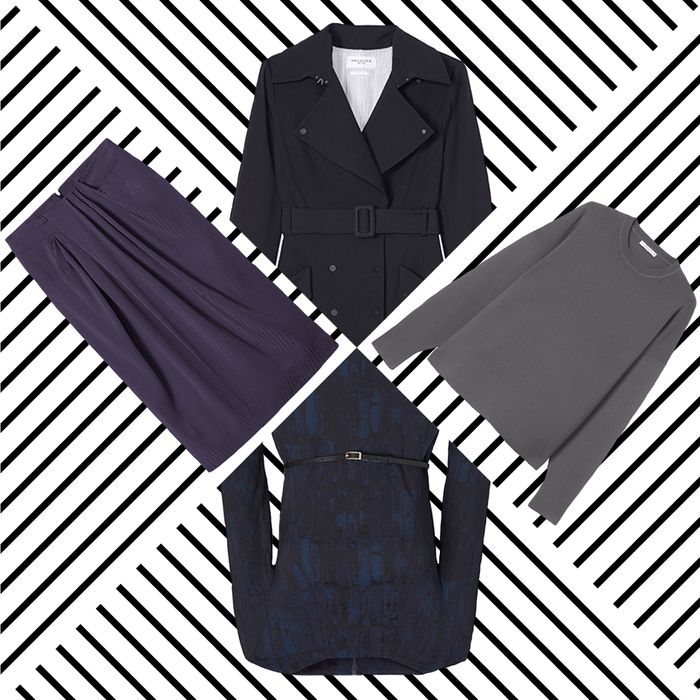 Photo: Courtesy of M.M.LaFleur
In today's world of "wear what makes you feel good," the office has become less of a dress-code zone. Thankfully, this has led to more sophisticated, modern workwear options that happen to be comfortable enough for a full 8 hours (and then some). But the question remains: how do you narrow down the choices?
Lucky for us, M.M.LaFleur has created a collection of capsule wardrobes, called Omakases, for different types of working women and their unique needs. (In Japanese, Omakase means, "respectfully allowing another to decide what is best.") Each type of Omakase includes 2 weeks' worth of luxury, ready-to-wear outfits you can easily mix and match. In celebration of this genius design, we asked three stylish, successful women all about their workwear habits and fashion go-tos. Read their advice, and shop their favorites from the M.M.LaFleur Omakase collection, below.
Aminatou Sow, writer, podcast host, and co-founder of Tech LadyMafia
On career and comfort:
I feel so lucky that I am not tied to the rigid idea of "career." I am currently working on a book and work on a podcast with my friends, but I also host a lot of live events. I have a good balance of working from home and running around the city for meetings and events, so I don't like anything fussy. Comfort above all else. If I can't breathe, sit, or stand comfortably, the outfit has got to go.
On dressing for yourself: When I joined the workforce, I had a fraught relationship with clothes. After realizing that bringing my full self to work was an advantage, I started dressing for myself. Fashion was also a way to navigate my anxieties around often being the only black woman in the room. I've worked in a lot of very white, very male industries, and clothes were my armor to face micro-aggressions and other barriers to success. By boldly expressing myself, I was refusing to shrink into the background and sink to low expectations the workplace has for women who look like me.
On workwear that works: Well-constructed clothes and very solid basics. You only really need a dozen work outfits, in my opinion, and you should be able to mix and match them to death. The Multitasker Omakase is incredibly versatile and transitions remarkably well from day to night for those of us always on the go.
I was recently in Australia for work, and the Osborn Trench kept me dry and warm throughout my time in Melbourne. It has thoughtful details like the hook closure at the neck and it looks and feels very luxe. I wore the Etsuko Dress for my daytime meetings and then while I hosted a speaking event later at night. Jacquard fabric always seems like it will be too stiff but that wasn't the case with The Etsuko. It has the right amount of stretch, the silhouette is lovely, and it traveled perfectly with zero wrinkles.
Amanda Litman, executive director and co-founder of Run for Something
On working (and dressing) from home: At Run for Something, we recruit and support young, diverse progressives running for local office. My job includes overseeing our fundraising, communications, and basically anything external-facing: talking to reporters, speaking at events, and meeting with donors.
Since I typically work remotely, when I am heading out to a meeting or event, my go-to work outfit is usually a dress or skirt in neutral colors with knee-high boots and a splash of pattern or color. If I can be a little less formal, I'll wear black jeans, a silky blouse, and leather boots or flats.
On what to look for in workwear: Does it make you feel like a badass bitch who can find a way to get to yes? Then great. Whatever it is, put it on your body.
I love M.M.LaFleur's Power Player Omakase because it's classic and so easy to dress up or dress down. The clothes are structured so well — they maintain their shape without looking sloppy, and don't get wrinkled even after sitting for a while, like in a long meeting or on a plane. The colors are rich but not loud, and are perfect for accessorizing. I can wear the Butler Top with a wool skirt or fake leather leggings and it meets the moment, no matter what. The Lenox Skirt is long enough that I can wear it on a panel with those tall, director-style chairs without fear of a scandal, but still form-fitting enough so I don't feel shapeless or dowdy.
On figuring out her professional style: This is the first job where I've had to dress up with any regularity — it's been fun, scary, and sometimes expensive to find my own version of what I often call "fancy business lady" attire.
Before Run for Something, when I was working on campaigns, my outfit didn't matter. Now that I'm representing an organization and asking people to support and invest in us, I have to dress like a professional. That being said, while our work is serious, I don't take myself too seriously. For me, more than anything else, being work-ready means being confident in what I'm wearing.
Sierra Tishgart, co-founder of Great Jones cookware
On fashion in her day-to-day: My schedule varies greatly, but right now, I'm working on developing a campaign shoot for a new product launching in November, planning an event for our one-year anniversary party, and scouting new talent to join our team, to name a few things. Fashion has always been a pleasure, but now, since we're designing products at Great Jones, it has a direct influence on my work. For example, one of my handbags inspired the blueberry color of The Dutchess (our Dutch oven).
On workwear she loves right now: For me, nice fabric will make all the difference. The pieces in M.M.LaFleur's Disruptor Omakase are so soft! I love that I can look tailored but still feel warm and cozy. On a day I knew I'd be out late, I put my Para Pullover in my backpack and layered it over a midi-length cashmere skirt as it got colder outside. (Editor's note: the Merritt Jardigan is another cozy-comfy choice for fall.)
On dressing for success: When I was working as a writer and editor (at New York magazine!), my style was much more casual. Now, I dress up more; I often leave the Great Jones office to attend events or participate in panels. The constant challenge is looking professional while still having fun with color, texture, and prints. I really appreciate the versatility of the pieces in The Disruptor Omakase.
That being said, my best advice is to wear whatever makes you feel most confident. I have less and less time to plan out my outfits, so it's ideal to have pieces like M.M.LaFleur's Arbus Sweater that I can throw on with jeans and a boot and feel good to go.
This is paid content produced for an advertiser by New York Stories. The editorial staff of The Cut did not play a role in its creation.