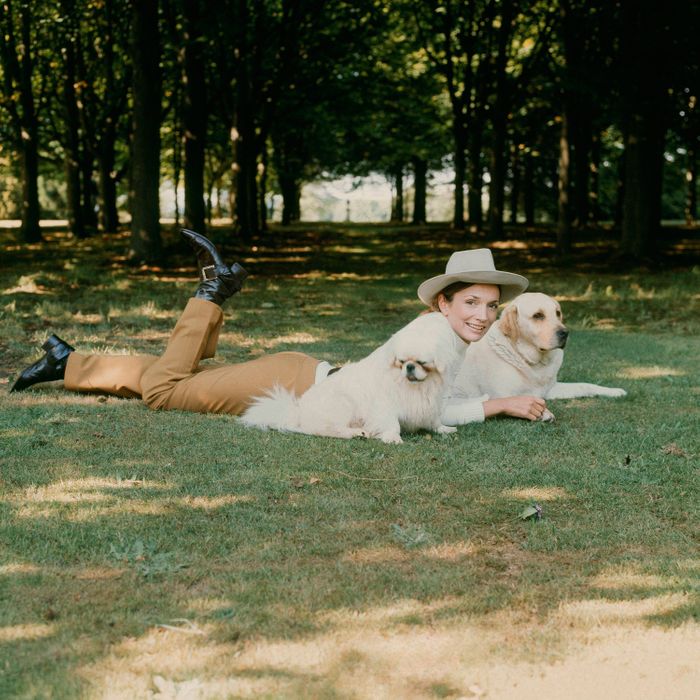 Lee Radziwill and her dogs.
Photo: Horst P. Horst/Conde Nast via Getty Images
Most people working in fashion today will tell you that dressing the part requires a bit of hoodwinking, like when you have to find last-minute Gucci knockoff heels for an interview with Anna Wintour. After a few years in the industry, I think I've gotten pretty good at finding affordable ways to look and feel expensive. I know where all the best "dupes" can be found, as Strategist calls them. And I know they work because my peers — the ones who've seen the real thing up close — are often fooled. For example, at a fancy event recently, an editor asked me if my cashmere sweater was Loro Piana — as in, the $1,000-something dollar Italian cashmere brand worn only by the superrich. Ha! It's Uniqlo, I whispered with a grin. I live for these moments.
So the secret is out: I'm not rich, I just shop at Uniqlo. And I'm not only talking about the collaborations with fashion-world names like Lemaire, JW Anderson, and Alexander Wang — although I love those. Like a lot of other people in the fashion industry, I go to Uniqlo for basics. In fact, when I told the aforementioned editor about my sweater, he didn't gasp. Instead, he grabbed my shoulder and yelled "SAME!" Like me, he'd chosen a Uniqlo cashmere sweater in an effort to blend in.
Uniqlo works for pretty much every occasion, from first dates to first class. But I'd like to think that I've recently perfected the "rich person" Uniqlo uniform. It's actually quite simple, which makes sense. To be rich means you don't really have to think or do anything; you just show up in your nice town car. You're not really taking big swings when it comes to your wardrobe. (If you are, they're probably misguided.) Instead, you're comfortable and a bit too casual because no one is going to call you out for it. You own the place! You're also probably wearing something dry-clean only. Am I right?
In my humble opinion, this arguably deplorable ethos can be achieved at Uniqlo with one simple directive: Buy soft, cream colors, and wear them all at once. Yes, it's that easy. Do this, and people will be asking you where you went to boarding school and telling you how much they miss Dean & DeLuca in no time, I promise.
Below, a five-step guide to climbing the cashmere social ladder.
1. Oat Milk Cashmere Turtleneck
2. Pleated Wool Pants
3. Matching Scarf
4. Camel Coat
5. Puffer That Most People Would Stain Instantly
Voilà! You're a walking Town & Country cover line.