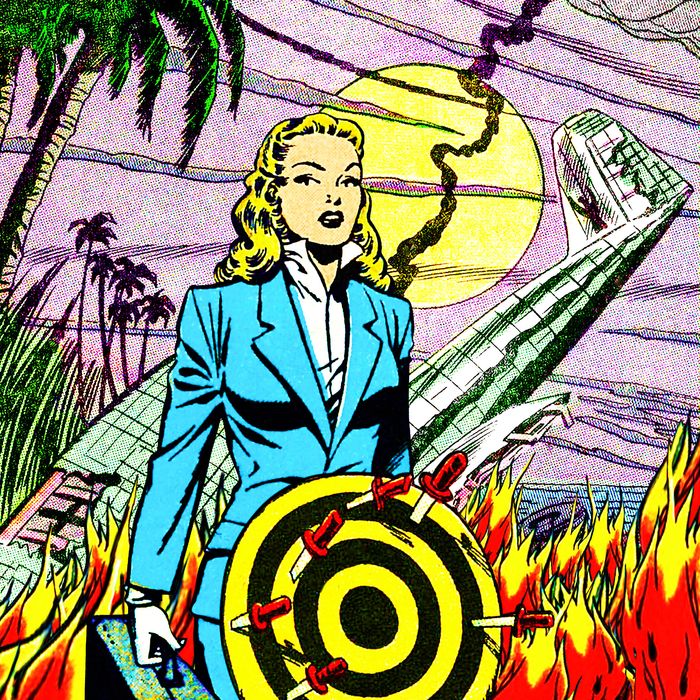 Illustration: J. V. Aranda
I call my last relationship "the vacation hookup that lasted three years." Ever since I met my ex at a nightclub in Ibiza and he told me I had "eyes like a husky's," I had a feeling it wasn't meant to be forever — but it would be fun while it lasted.
At the time, I was living as a digital nomad, traveling the world while working remotely, and I began alternating between staying with him in Germany and living elsewhere on my own. During the weeks when we were together, we'd both work from home, sharing our favorite playlists, going on daily runs through the park, and making each other avocado toast. Then I'd get restless and go off to do my own thing. He encouraged my free-spiritedness and was always happy to see me when I made my way back to him. We didn't have all that much in common, but we were good companions: We rarely fought, took care of each other when we were sick, and liked all of each other's tweets.
It was this spring that we spotted the beginning of the end. After three years, our lack of mutual interests had begun to chafe. I was growing increasingly frustrated that he didn't seem to understand certain aspects of me, like my spirituality and commitment to social justice. I didn't feel like I could have the deep intellectual discussions I craved with him. I was in New York for the video chat when the final straw dropped: I told him I'd felt held back throughout our relationship because I wanted to explore non-monogamy. He wasn't open to it. Neither of us was willing to budge, so the only option left was to break up.
"You don't end a three-year relationship over Google Hangouts," he said. "It's just not right." I told him I'd think about visiting, since I planned to be in Amsterdam in a few weeks anyway. But I was afraid seeing each other again would make the breakup more painful. Several friends advised me to end it at a distance to get a clean break. "Being together again could lead lines to be blurred," one said.
As I thought about it, though, I decided that our relationship deserved a final visit, and a chance to say good-bye in person — a "relationship funeral," I told a friend. I wanted one last day to squeeze in the things I wanted to do before the relationship was over, to enjoy each other's company without any conflict, to express my love without confusion about our long-term potential clouding my feelings.
When I told him I'd booked a ticket to Germany, he wrote, "Let's have a nice dinner and say good-bye to each other. Let's break up in a way that is worth it." My eyes welled up, but I felt more relief than sadness. I was sad that it was ending but grateful that it hadn't ended yet. We had a whole day to finish any unfinished business, to say the words we wanted to get in while we were still together.
The day before my trip, I G-chatted him two ground rules: no getting back together and no sex. I was confident that we were making the right decision to break up, and I was afraid having sex would make it even more difficult to part.
When he picked me up at the train station in Germany, I wasn't sure how to greet him, now that we were technically exes. He bent down to kiss me. So, we'd act like a couple for a little longer. I didn't mind. It seemed cold to do otherwise — I'd come there out of love, and I wanted him to know that. I also didn't mind that, once I got settled in his apartment, I immediately rescinded my no-sex rule. If we had one more day together, we might as well make it a good one.
In the afternoon, we spread a blanket down in the park and lay facing each other, just as we had many times over the past three years. I told him about the fondest memories I had of him, from the first time we said "I love you" on a rock in Central Park. We went out to dinner at a Chinese restaurant we'd gone to a few months prior for his birthday, sharing soup and dumplings like the happy couple we'd been on that night.
"I'm glad you're still my girlfriend for another few hours," he said as we left.
"I want to be your girlfriend forever," I whispered. "Are you sure we're making the right decision?"
"Not 100 percent, but I think so."
I thought so, too. Part of me desperately wanted to try to patch things up, but I knew deep down that if I stayed with him, on some level I'd always feel intellectually under-stimulated, sexually limited, and unseen. We'd already spent three years trying to work through our incompatibilities. And the fact that we were deciding to break up together, each with the other's best interests in mind, gave me the confidence that it was right. Plus, the choice had withstood a test: After our romantic day together, it would have been easy to reunite if we wanted to. But we both knew that we shouldn't.
Despite my friends' warnings that being with him again could make breaking up harder, being able to cry in his arms actually made it easier. Even though we were no longer a couple, I still had his love and support, and that was something. I knew I would have to cry alone soon, but for now, it was comforting to be with someone who understood.
The next morning, after a night spent cuddling and once again defying the no-sex rule, I put on a song we used to dance to as we got ready in the morning, and packed up all the stuff I'd left at his place. "Send me a cat photo once in a while, okay?" he said on our way to the train station. Throughout our relationship, I'd sent him an annoying number of pictures of my family's cat.
"Deal," I said.
Once we reached the track, I put my bags down and looked up at him. This was it. Tears pooled up in my eyes again, but this time I managed a smile. "I'll love you forever," I said, giving his hand one last squeeze.
"I'm going to miss those husky eyes." A sweet sadness swept across his face, and I was off. I blew him a kiss from the train.  As I zoomed toward the Netherlands, I felt like a teen just sent off to college. I was heartbroken to leave the person who had become my home, but deep down, I knew that it was time for a new adventure.