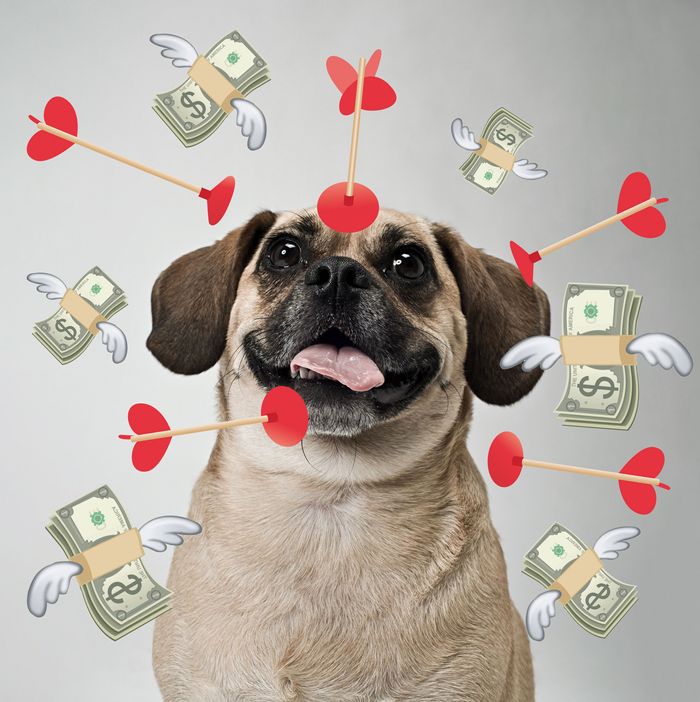 Follow Me is a weeklong series about personal brands, for better or for worse. Here, a 35-year-old woman from Chicago explains the process of buying Instagram followers for her dog — and why she'd do it again.
About five years ago, I got a puggle, and my sister and I decided to start an Instagram account for her. I take the pictures and my sister posts them with witty captions. It's meant to be sarcastic and funny, and at first we were just doing it for our own amusement. But then I started looking at other pet accounts, and it made me think, "Oh, if we get a bunch of followers, maybe I could get free stuff. It would be cool to have a famous dog and get recognized on the street."
I tried getting more followers the organic way, by following and commenting on more famous pet accounts. My initial goal was to get to 1,000 followers, at which point you can qualify as a "micro-influencer" and brands start to notice you. But we weren't getting a lot of traction. We got up to about 300 followers and then we plateaued. I also got impatient. I'm 35, single, and I work in finance — I don't have a ton of extra time to spend on this.
When I learned that you can buy followers, I did some research and found out you can get 500 followers for about 10 bucks. It's not expensive. I found an app that you can link to your Instagram account and buy followers and likes and comments. But the problem is, the followers you buy won't stay. If you want "golden followers," who are guaranteed to keep following you, then the app charges you significantly more.
I decided to buy 500 followers at first — the normal kind, not the "golden" ones — which bumped up our follower count to 800. That's still pretty low, but I figured it was best to do it in small increments. If I suddenly got thousands of new followers, it might look fishy.
It took a few days for the followers to show up. At first, when nothing happened, I was worried that I got scammed. Then they started appearing in waves, about a hundred at a time. I looked through some of their profiles and they're real accounts, not bots — most of them are people based in India and Russia. I didn't pay for likes, but I noticed that a lot of them did "like" my posts anyway. I want to think that they actually do like them — my dog is really cute. But I honestly don't know.
Buying followers did work. It's a snowball effect: Once people see a higher follower number, then you seem like the real deal, not just some random account. Pet businesses started following us and reaching out and saying, "Hey, do you want to rep our products? We'll give you 50 percent off and your followers will get 20 percent off." I haven't said yes to anything yet, because I don't want discounts on stuff; I want it for free. I'm not going to go and buy a dog bandana just because someone is giving me half off to be their brand ambassador. But the offers do keep getting better. I think we'll start to get some good ones soon.
After a couple of weeks, I noticed that we'd lose five to ten paid followers every day. When about 30 percent of them left, I re-upped with another 500, which tipped our follower count to just over 1,000. It's still not a lot, but it's a start. The paid followers do screw up the metrics, though. My follower demographic went from mostly women in Chicago, to being 60 percent foreign men between 18 and 24. It's not a big deal, but if you're trying to market yourself as having a certain niche, it could make a difference.
Obviously, I don't tell my friends that I bought my followers, because on a certain level it's pathetic. But I'd do it again, and I certainly don't regret it. What surprised me most is how common it is. Now that I know what the fake followers look like, I can tell when other people have them too — some of them even have the same ones that I do. I've noticed that a lot of smaller-scale lifestyle influencers have done it, and I do judge them for it a little bit, mostly because I can tell they're putting a lot more time and effort into their accounts than me, so you'd think they could get followers the normal way. But if your goal is to make money or get free stuff from your Instagram account, I guess it's an investment. At least that's what I tell myself.