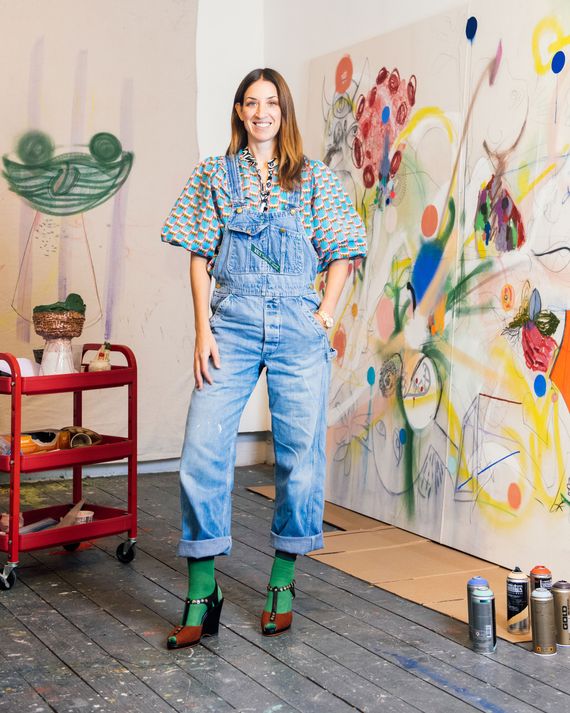 Editor's note: This story was published in November 2019, before an offensive photo of the subject that does not represent the values of the Cut became public. If we knew then what we know now, we would not have chosen to give her this platform.
Artist Simone Shubuck spends most of her days in her studio, getting messy and dressing, as she puts it, "like a farmer." T Magazine once described her work as "filigree doodles of deceptively innocent-seeming flora and fauna." It relies on graphite and colorful mediums like acrylic — hence the need for clothes that can get dirty.
Shubuck's art been displayed in the Museum of Modern Art and MoMA PS1, as well as in solo exhibitions at galleries in Zurich, Chicago, and Los Angeles. These days, she's often working with Janine Foeller on Wifey, an eatery/gallery/performance-art-space hybrid that pops up around the city, most recently at Café Altro Paradisio. It's a place where you can enjoy the fruits of many creative people's labor, from sticky buns to one-of-a-kind ceramic mugs to Shubuck's art.
The life of an artist in New York isn't just about making art in a studio, but also schmoozing with other players in the art world. But Shubuck isn't worried about dressing to impress. "I've lived in NYC for 25 years this year and I have made a point to have never rolled too deep in the art world," she said of getting dressed for industry events. "But when in doubt, A Détacher (RIP)" We spoke with her about where to source vintage overalls and what to wear when you're making art.
On her everyday shoes: I definitely need to have grubby and comfortable shoes in the studio. I have a pile of old Vans and Birkenstocks there, so I often change shoes when I arrive. It's hard enough to drop into flow space creatively when you're comfortable, let alone worrying about messing up nice shoes.
On dressing up: I have a pretty split personality sartorially. I look like a farmer during the day, somewhat less so by evening. I will usually stop at home and do some mom stuff for a bit before going out which gives me a chance to clean up and put on makeup. I put on a taxi shoe (a.k.a. heels), usually a wedge by Jane Mayle or kelly green Gucci Jordaan loafers. Before our son was born and our biggest problem was where do we want to dine, my husband was at GQ, and he'd often have a suit or something office-y on. He'd come home and put on a worn-in T shirt and I'd come home from being covered in paint and change into something dressier.
Shop Loafers
On dressing for meetings: I guess the artist version of an important meeting is a studio visit. I try to keep that pretty consistent with the dirty aspect of making things, so typically I'm in something I'm comfortable getting dirty in, like coveralls and my studio Birks. There are a few places I'll get coveralls: Front Street General in Dumbo near my studio has surprisingly well-priced old Levis. Etsy is great for overalls. And Thank You Have a Nice Day in Fort Greene has some amazing vintage French coveralls.
On personal style: I mean, we're talking color and shape and texture and form … all things that interest me in my work and in general. I'm excited by independent NYC-based designers.A big fave and close friend is Jane Mayle of Maison Mayle. I also like A Détacher — they both have very realized and complete visions. Over time, seeing how they've grown and changed and evolved is fascinating to me. I guess I follow that instinctively and wear what looks and feels good.
I'm not entirely sure my style has evolved through my life. I used to wear engineer-striped Osh Kosh B'gosh and Lee overalls in high school and art school, and they are still my faves. I guess now instead of paired with Doc Martens shoes with stars and Betsey Johnson sweaters, I would add an A Détacher or Mayle blouse and Gucci loafers or even a wedge heel.
Shop Overalls
On the best parts of her job: On an ideal day, I'm holed up in my studio in Dumbo and am happily isolated and feeling good about it. I will probably pop out to get a pastry or coffee from Burrow or a bento box or matcha from Usagi. I seem to only patronize Japanese spots while at work. A rare great day has me painting and listening to a whole Watt from Pedro podcast (about three hours) and not looking at my phone once to see if the school nurse left a left message. If I have meetings for Wifey, a project I do with Janine Foeller, we might meet with Natasha Pickowicz, our favorite collaborator and pastry chef at Café Altro Paradiso. We have been known to show up wearing the exact same (A Détacher) outfit, so I've been referring to us as Patty and Selma, not that they match but …
You get a natural high when you make something that works. The Wifey pop-ups I've been doing are a real source of joy. I can't tell if it's the final outcome or the process that gives me more joy. It's like going on a trip: The actual trip can be amazing, but having travel to look forward to is a huge part of the joy, for me at least.
On what she wears to look impressive: Probably some beautifully obnoxious Gucci piece. I have a slim-cut white jacket from the first Michele season with a big Gucci ribbon bow and a giant embroidered butterfly on the back of it. I'll sometimes text my friend Kate Young and ask important questions like, Is this too insane or just insane enough?
If you buy something through our links, New York may earn an affiliate commission.