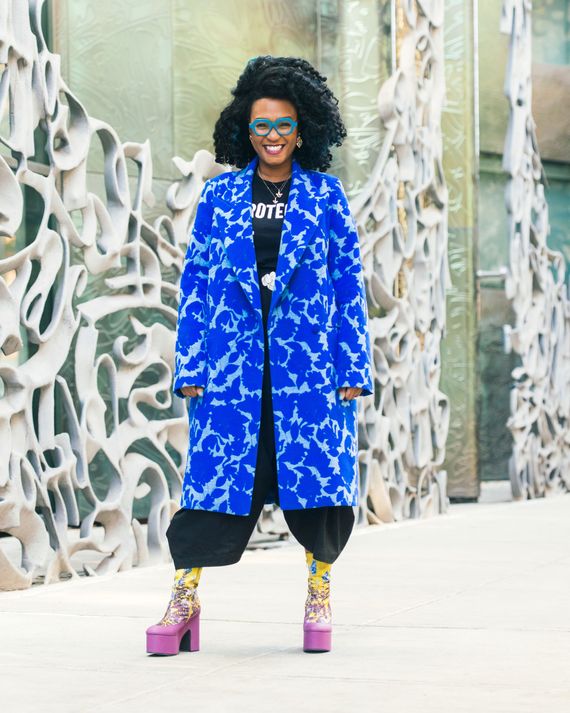 Rakia Reynolds's job is telling her clients' stories effectively, so it makes sense that when she gets herself dressed, she's thinking about how to authentically communicate herself. The founder and CEO of Skai Blue Media, her client list includes Serena Williams, Ashley Graham, and Dell. She's constantly moving — one day she could be in south Florida meeting with a client's board of directors, the next she's making content with Williams. Right now, with the new year approaching, she's in meetings with clients to plan for 2020. No matter where she is, though, she'll have some kind of statement piece to show off her personality (for example, sky-blue glasses and nails). The Cut caught up with her in the middle of all those meetings to talk about platform boots, different lipsticks for different occasions, and how her kids influence her style.
On her everyday shoes: My day-to-day is always different, and often unpredictable. I don't necessarily have one specific go-to for shoes, but during the day time, I almost always wear sneakers or boots. My current favorites include Nike x Undercover Daybreak by Jun Takahashi with leather pants and a blazer, Doc Marten boots with dresses, and Dries Van Noten booties with skirts. If I'm doing less walking and more getting in and out of cars for meetings, I am wearing Simon Miller High Raid chunky boots.
Once I get dressed, I'm dressed for the day. The only thing I will switch up is my shoe. My go-to strappy nude sandals right now are by Rebecca Allen, because she does it right when it comes to the Black woman nude.
Shop Strappy Sandals
On personal style: I've built my career and my business on authenticity. No matter if I'm meeting with a corporate board, a prospective health/tech client, an up-and-coming influencer, or a longtime colleague, I always want to be an example of being my authentic self. This means always being honest and kind. But I'm a highly visual person, so this also means appearance. Sometimes I like to have my big Afro, or a smaller tapered fro, or braids, or straight hair with blue highlights. My style honors where I've been, all I am now, and where I'm going which means leaning into more futuristic shapes, colors, and designers. I tend to stay on top of trends with the help of sources such as WGSN and Harlem's Fashion Row. I look out for the next new way to wear a bold blue hue, or a new breakout Black designer that I should support.
On how having kids affected her taste: Being a parent of three observant kids only makes me want to be more authentic and stylish. My kids aren't little anymore; They have fashion sense. I've never conformed to others' expectations. I want my kids to see that, every day. And I like to stand out. If you ever see me wearing earrings that match with a little black dress, you'll know I've gone back on my promise to myself, and please send help.
On makeup: The one thing I purposefully switch up is my makeup. If I'm going to that board meeting, I'll show up with a nude lip. If I'm presenting to a crowd, I'll make sure I'm wearing my Ruby Woo M.A.C lipstick. Almost wherever I go, I do a lot of talking. If I want what I'm saying to stand out, I put the focus right on my mouth.
On how she starts her day: Most days start at home, with my family. While I'm getting my children ready for school, giving them breakfast, making their lunch, my hair will be in twists in a bonnet, and I'm wearing a robe. Motherhood is that glamorous. Once my kids are out the door, that's when I get dressed. But right before I do, I have this little ritual. I take a second to visualize my day. I ask myself: Does my clothing need to keep moving with me? Will it go from day to night? Do I need armor? If it's a yes to the last one, I'll wear protective crystals on my eye glass chain, or a RoseBYANDER Love Sign Pendant which feels like a fresh take on the traditional heart necklace. I also love to wear one earring with a cutout of Africa. Recently, someone at an event asked me if my earring was supposed to be Texas. Can you believe that? At least, her question started a conversation. Maybe next time, she'll remember Mother Africa.
Shop Platform Boots
On the challenges of her job: I was going to say that any CEO or founding owner of a company has to be the ultimate decision maker, and that can be hard, and lonely. But for me, it's more than that. Because I'm often perceived not only as a Black woman, but also a young Black woman, I'm constantly answering the questions, "Who's your business partner?" and "How did you build this company and scale it so quickly?" An older white man — or any white man, really — in my position wouldn't get these questions. Still when I do, I take a deep breath and I try to see my answer as an opportunity to tell a different story.
On how her style has changed: Earlier in my career, I was wore purposefully bold clothes to express myself. I'd wear a big, unmissable hat, or a huge, bright feather earring. I still wear and love bold colors. But I'm more confident. I don't need a look-at-me accessory to feel like I'm standing out. I've always been high-low: Doc Martens, Dries, and vintage. I wear what I like.
Rakia wears Dries Van Noten platform boots.