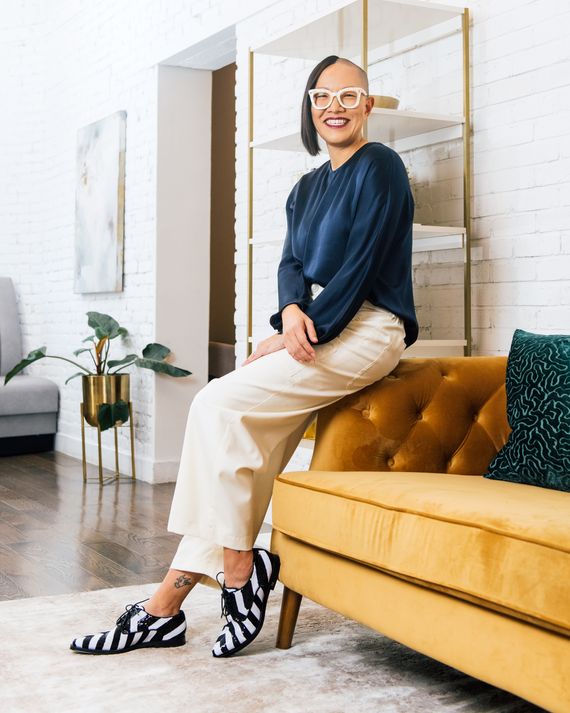 In a world where everything is disrupted (clothes! cookware! beauty products!), what's left to improve? Well, there's always cell-phone service. Imagine a reasonable monthly phone bill — that's the dream Minjae Ormes is selling as the chief marketing officer for Visible, which offers a new type of wireless plan. Technically, Visible uses Verizon's network, but because of its direct-to-consumer approach, the company charges only $40 per month for unlimited data and minutes.
Ormes didn't think she'd wind up working in a tech-related field. After she earned her master's degree in cinema studies at New York University, her first few jobs were in the film industry, mainly working on movie marketing. She took those skills to consult for clients like the National Geographic Network before landing at YouTube in San Francisco, where she remained for nearly seven years. Now she calls Denver home, but the Cut caught up with her on a recent business trip to New York. Read on to hear about her unique haircut, why she can travel with just a tiny backpack, and what immigrating from Korea taught her about personal style.
On her everyday shoes: I prefer flats to heels, since I'm usually running from one meeting to another, and when I'm brainstorming with my team, I like to be on my feet. I travel quite a bit for work, and the same pairs of shoes go with me everywhere. That means I'm usually in Golden Goose sneakers or oxfords. I like the ones from the Office of Angela Scott and WANT Les Essentiels — they go nicely with my casual clothes but also look sharp for business meetings. Of course, now that I live in Colorado, there are days when I am living in my Sorel boots.
On going out after work: I'm always trying to squeeze as much as possible into each day, so for most days, one outfit needs to have a whole lot of range! I'm usually in a pair of navy or black pants from Nili Lotan or Julien David, coupled either with a neutral-color Jil Sander or Vince silk top or with a Kit and Ace T-shirt in white, gray, or black.
On big-meeting outfits: I'll add on to my everyday uniform by throwing on a blazer and red lipstick. My current favorite is black with a slight shimmer all over and a striped lining that shows once I fold up the sleeves. I find it has more character. I'm hoping to add a menswear tweed piece like this Isabel Marant Étoile Kice blazer or this Veronica Beard Martel Dickey jacket.
Shop Tweed Blazers
On her hair: I had a pretty standard bob until about seven or eight years ago, but I wanted to experiment with an uneven cut that was more angular. The first attempt was a total disaster! The person literally cut one side at one length and the other at a whole other length. I had to grow it back out and try again. The second time was the charm — Amee Wong, my hairstylist in San Francisco (and now friend for life!) beautifully translated my imagined cut into an actual style.
Two or three years after that, when I was coming back from my second maternity leave, I wanted an even sharper no-nonsense look, so I added an undercut and half-shave. There's no way I blend in with this type of haircut, but that's the whole point. I'm able to stand out and feel comfortable in my own skin. Every few months, I'll get a professional cleanup, but I shave it once a week to keep it clean. It's a bold look, but I think I pull it off because of my relatively smoothly shaped head (thanks, Mom!)
On traveling for work: Much as I do with my schedule, I like to pack as much into a single backpack as possible. I never check bags, nor do I use the overhead compartment for my carry-on if I can avoid it. Right now, I use Fjällräven Kånken's 17-inch laptop backpack as my go-to. It fits a combination of my outfits for a two- or three-day trip, plus my toiletry bag (Calila's Wanderer Dopp kit) and a second pair of shoes, and it has a separate compartment for my laptop and a book. I usually bring a second pair of glasses, too. Since I can't really function without them, they're part of my statement outfits. I love my Jacques Marie Mage frames — they're actually sunglasses that I've converted!
Shop Sunglasses
On her style evolution: For the majority of my life, I was taught to fit in and conform. When I was growing up in Seoul, I went to an all-girls school where I wore a mandatory uniform and hairstyle. At 13, I moved to Canada, and suddenly my life was all about figuring out the unspoken social code of this new world. To assimilate, I mimicked the style of clothes my peers wore to school.
Even as an adult, I spent too much time worrying about what other people would think of my outfit and muted my own style choices to blend into professional environments. Fast-forward to now: I've finally learned that you don't have to fit in in order to belong and thrive somewhere. And it's very much reflected in how many more risks I take with my style choices — I've chosen bolder clothes and splashy shoes.
On the last three things she bought: I've always been a huge handbag geek, so I bought a Balenciaga moto bag on the Real Real. I also added a pair of the Office of Angela Scott's Colin double monk strap in Scarlett — I want these in every single color! Then I needed socks, so I went on Amazon and bought a ton of those low-cut ones that you can't see.
Shop the Story
If you buy something through our links, New York may earn an affiliate commission.