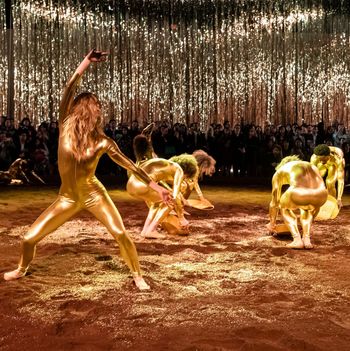 Photo: Drew Altizer/Courtesy of Hermès
Last Friday, the largest Hermès store in the country opened its doors in San Francisco. The night before, the brand threw a party that could only have existed in America's tech capital, complete with modern dancers, a brass band, and Silicon Valley luminaries.
It was the reopening of the Grant Street location, a 9,000-square-foot, two-story boutique. Outside, a line was wrapped around the block. Inside, a perfumery and a massive display of scarves and bags enticed on the ground floor, while up the sculptural wooden staircase, party guests were greeted with housewares, fine jewelry, VIP and bespoke salons, and a one-of-a-kind Hermès canoe crafted out of the smoothest leather. Apple's Jony Ive mingled with SF social staples Denise Hale, Vanessa Getty, and Danielle Steel, and Champagne flowed along with whispers of the California law to outlaw crocodile in 2020. A city where tech titans mingle with pillars of society, San Francisco feels apropos for the French luxury house. The brand first opened here 32 years ago in Union Square, and with the tech boom bringing even more money into the area, the need for a larger store was imminent.
Following the store preview, 500 guests were shuttled to the Armory to take in performances and load up on charcuterie, tuna tartare, and even more Champagne. In keeping with the brand's equestrian roots, dancer Judith Zagury performed a pas de deux with a beautiful white horse, followed by a gilded-spandex troupe's modern-dance interpretation of the California Gold Rush. A big brass band then marched through the place before a dance choreographed by New York's Ryan McNamara segued into a disco dance party for all. The score and scene called to mind Stanley Kubrick's 2001: A Space Odyssey, but the message was clear: Hermès was doubling down on San Francisco, and like many of the guests at the party, it was already looking far into the future.