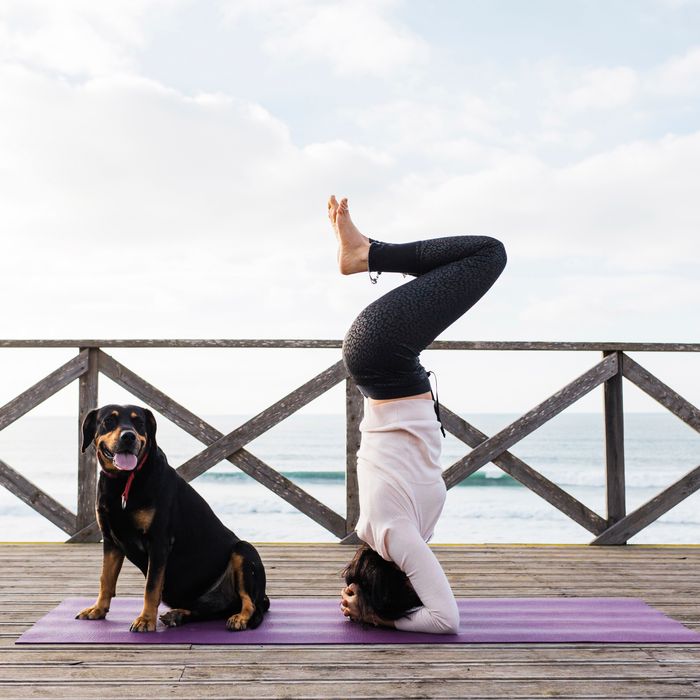 Photo: Alexandra C. Ribeiro / Aurora P/Getty Images/Aurora Open
If you scroll through the 73 million #yoga hashtags on Instagram, you'll most likely see a substantial number of people doing yoga poses. These can range from the simple warrior pose in a living room to the more difficult forearm stand being demonstrated somewhere out in the wild, the beach, a park, a pile of leaves. As the poses become more intense, the settings can become more elaborate, with every inspiring yogi influencer trying to outdo the other. With the pressure to perform these poses on social media, reportedly has come a rise in yoga injuries.
A British physiotherapist named Benoy Mathew told the Telegraph that yoga has become more popular in recent years thanks to social media, leading inexperienced people to teach the practice for the wrong reasons as well as attempt advanced poses before they're ready. "Social media has definitely contributed to this feeling of having to take it to the next level and that's purely for aesthetic reasons," he said. "Just because you can get your head to touch the floor, you might manage to get an ego boost but it doesn't necessarily mean you are going to have a huge health boost. You are just leaving yourself with more problems."
The U.S. has also seen an increase in yoga-related injuries. A 2016 study showed that emergency room–treated yoga injuries have increased from 9.5 for every 100,000 yoga participants in 2001, to 17 per 100,000 in 2014. Some of these injuries have been terrifying: In 2017, a Maryland woman experienced a stroke caused by the hollowback headstand she did. In Mexico, a 23-year-old woman sustained 110 broken bones after attempting a yoga pose on her balcony and falling 80 feet in August of this year.
A London-based yoga teacher with the incredible name Poppy Pickles told the Telegraph that people are much more "impatient in the West" when it comes to attempting poses that will impress their Instagram followers. "There are no boundaries or guidelines across the industry which stipulate what kind of training you need to have in order to teach. So it can definitely put a strain on people's bodies," she said. "There's pressure as a yoga teacher to show that you are better than your students. So people often throw themselves into these positions to demonstrate that you are capable of doing the moves."