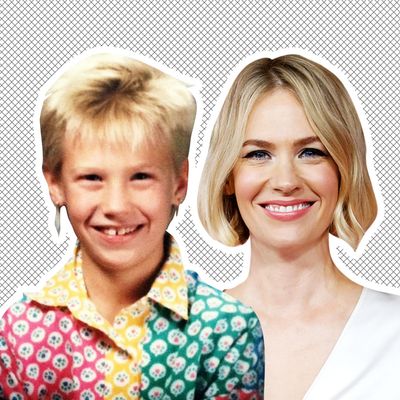 Don't worry, it'll grow out just fine.
Photo: Getty Images, @januaryjones/Instagram
The trendy, cool-person haircuts du jour have a few things in common. Namely, being very mullet-adjacent and reminiscent of the terrible, horrible, no good, very bad haircuts many received in their youth. January Jones was one of those youths.
Last night, the actor revealed via a spate of Instagram posts that she was a repeat victim of haircuts that were a harrowing mash-up of mullets, bowl cuts, and weird bangs. It's comforting to know that Baby January survives this trying time and eventually becomes the owner of one of the sleekest lobs in the industry, but Jones's temporary pivot to beauty influencer may be less a cautionary tale and more a helpful hair trend forecast.
We sympathize with Baby January, but perhaps she was a visionary who was simply before her time. Upon closer inspection, her looks have all the kitchen-drawer-scissors relatability and low-maintenance styling potential to become the next Instagram haircut we start seeing in fancy fashion campaigns and stuff. Let's meet the contenders.
1. Soft Spikes
Zero product required, great for the "Lazy Girl."
2. Soft Spikes Redux
Requires a single product, but not much of it. Great for anyone who wants to look "effortless" in exchange for a little effort.
3. Soft Two-Textured Mullet
Great for anyone going through the annoying growing-out process. Pairs well with hair gummies.
4. The Geist
Great for Murderinos and Crime Junkies.
5. The Side Swish
Great for anyone with thinner hair looking to increase volume.
6. The Good
Great for anyone who wants to gradually transition to a full-on bowl cut. Recommended use of a deep conditioner and an avoidance of becoming famous to replicate that sheen.