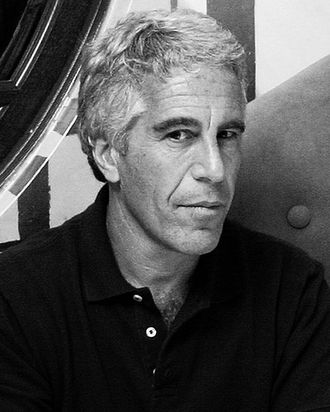 Photo: Rick Friedman/Corbis via Getty Images
The scope of Jeffrey Epstein's crimes against underage girls remains unknown, months after the convicted sex offender died of an apparent suicide in his prison cell. However, his alleged victims have been providing more details about the abuse they endured at the hands of the disgraced financier. A new accuser, identified as Jane Doe 15, has filed a lawsuit against Epstein's estate claiming that he sexually abused her when she was 15 years old.
Jane Doe 15 alleges that she met Epstein during a school field trip to New York City in 2004. She had spent a day with her sister, who lived in New York and already knew Epstein, NBC News reports. She was then flown on his private plane, along with other girls, to his New Mexico ranch. During the trip, Epstein allegedly gave her a tour of his jet, starting with the bedroom. "He told me to get down and feel the carpeted floors of the room. He then asked if I noticed anything special about the floor," the woman said at a press conference on Monday, according to the New York Post. "I responded that it felt very soft. He laughed and said was because the floors in the bedroom were foam mattress floors, because he liked to have girls sleep around him on the floor while he slept in the bed."
"Epstein's description of the women sleeping around him on the floor made [the plaintiff] immediately think of slaves," the lawsuit states. According to the complaint, Jane Doe 15 recognized one of the other girls on the flight as a model who had been on a magazine cover that same month, which made her her think, If she's here, it must be ok.
Jane Doe 15 said that when Epstein raped her at his New Mexico ranch, he took her "sexual innocence in front of a wall of framed photographs of him shaking hands and smiling with celebrities and political leaders." Afterward, she said, Epstein gave her $5,000 for college as well as several hundred dollars in cash, and invited her to stay at his home in Little St. James Island.
The woman, who wore a handmade beaded bracelet that said "Epstein didn't kill himself," also called out Prince Andrew for denying knowledge of Epstein's crimes in his recent interview with the BBC. "It was clear from the time I spent with Epstein that something was very wrong with his lifestyle, and it didn't take a victim to see that," she said. "We were not hidden. It is upsetting to me to think that anyone who was closely associated with Jeffrey Epstein might argue that they didn't suspect that he might have been sexually abusing children."