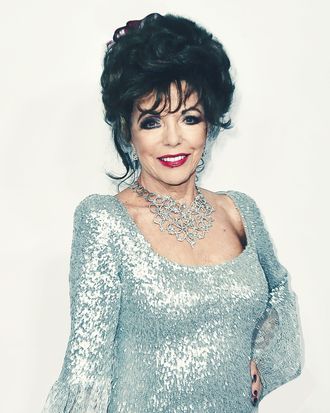 Joan Collins.
Photo: David Crotty/Patrick McMullan via Getty Image
Feuds are part of the lifeblood of celebrity culture. They're the grease that keeps the big PR wheel turning, while allowing fans to pick a side and get in line, while injecting drama into our little piggy veins. The big three are: Bette Davis and Joan Crawford, Kanye and Taylor Swift, and former Dynasty star Joan Collins and jeans. We're gathered here today to discuss the latter.
Collins, who is known for her over-the-top, glamorous style, took another jab at the celebrity-favorite pants in a new interview with Vogue. "Everybody's going to end up in jeans and T-shirts, which I think is tragic," Collins said, bemoaning that people don't dress up these days. She continued, "I hate jeans. I hate them, they're so unflattering. And I hate jeans with holes in the knees, or holes anywhere. I'm not keen on T-shirts with logos, either. I like to be comfortable, but I want to be elegant, too."
This is the third time Collins has spoken out against denim. In 2010, she wrote for the Daily Mail, "Today, so many people wear jeans all the time that they no longer have any individuality from the waist down … I rarely see anyone, male or female, wearing a pair of jeans that flatter them." She also took the time to take say that jeans make "fat people just look fatter," and "tiny people with thin legs tend to look like giant spiders." Two years later she made the point that jeans make everyone look the same, and it's hard to look glamorous while wearing them.
The feud is particularly heartbreaking because Collins used to love denim. She had her own denim line in the '80s. In her 2010 op-ed, she said she begged her mom for a pair of jeans as a child, and loved their counter-culture appeal. But now, everyone has them, and there's no novelty to be found. The denim community has not yet commented on the debacle. Oh well. Break out the Valentino!