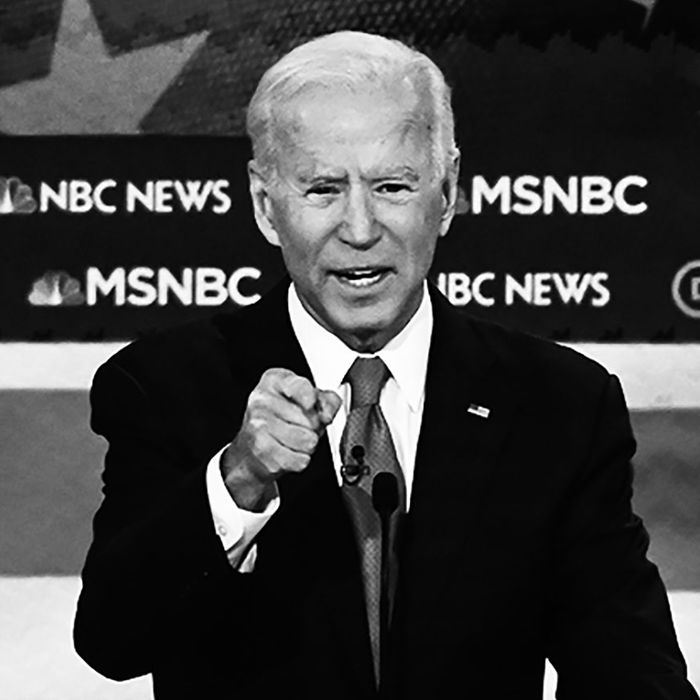 Photo: Toni L. Sandys/The Washington Post via Getty Im
The hits just keep on coming for Joe Biden at the Democratic debates. By hits, of course, I mean weird, off-putting moments that haunt the mind long after one has been released from the brightly lit prison of the cable news debate stage. Last night, the hits were metaphorical in more than one way, as Biden passionately described how he would "keep punching … and punching … and punching" the issue of domestic violence into submission.
Now that we're nearly six months out from the first debates in June, and in honor of Biden's newly announced "No Malarkey" bus tour, join me on a tour of his most mystifying, bizarre, and confounding debate moments.
When he cut his own time off
If you remember 10,000 years ago, at the very first 2020 debates, Biden was the only candidate to cut his own response time short. He was responding to devastating criticisms from Kamala Harris about his record on race, including his comments on working with segregationists and his views on busing ("That little girl was me," Harris said, of black children who were bused during desegregation). Well before moderators would have shut him down, after stumbling through a weak rebuttal, Biden sputtered, "Anyway, my time is up. I'm sorry."
When he called adult woman and U.S. senator Kamala Harris "kid"
At the second debates in July, you'll recall, Biden changed up his strategy: Instead of self-muting, he decided to employ the tried-and-true method of charming America through paternalistic condescension. Probably anticipating further sparring with Harris, he told her, "go easy on me, kid" as they shook hands on-camera. Harris's (appropriate) response was to smile and say, "Ha ha," before rushing away.
When he urged America to "go to" a phone number
Bookending his cutesy "kid" routine, Biden ended the July debates on an extremely … perplexing note. He made sure to tell viewers that we should "go to Joe 30330," which everyone quickly realized was the candidate trying to tell us to text "Joe" to 30330 to sign up for automated messages.
When he said that thing about record players
In September, Biden gave us a real doozy: In response to a question about America's 400 years of systemic racism, he went on a rambling tangent about what impoverished families of color can do to improve their children's educational opportunities. This included sending in social workers, and recommending that parents should "play the radio, make sure the television — excuse me, make sure you have the record player on at night."
When he said he would "punch" domestic violence over and over again
Last night we reached a new level of Bidenism with the candidate's take on combatting gender violence on college campuses. The weirdness was two-pronged: First, Biden said that "no man has a right to raise a hand to a woman" — unless in self-defense, an odd caveat to feel he should make during an impassioned answer about what he would do to help women. He went on to say we have to "change the culture" — more specifically, we have to "keep punching at it and punching at it and punching at it," you know, like we're beating it, with violence.
When he said he "comes from the black community"
Not to be outdone by himself, Biden responded to criticisms of his statement that he would not legalize marijuana with some dunderheaded comments about his relationship to black voters. Not only did he say he comes "out of the black community" while on stage with two black candidates, he also seemed to forget that one of them was there: Most likely referring to former Senator Carol Moseley Braun, he said he had the endorsement of "the only African-American woman that has ever been elected to the United States Senate." Moseley Braun is the first, not the only; the second black woman to become a U.S. senator, Kamala Harris, was standing a few feet down from Biden. She responded, "The other one is here."