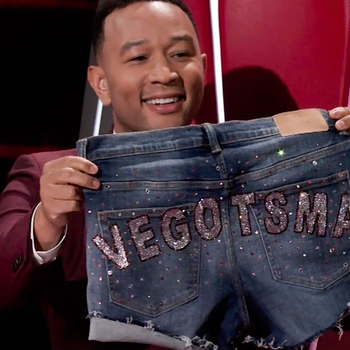 Photo: @nbcthevoice/Instagram
It's that time of the year again, you know, when People tells us who the "sexiest man alive" is. No, it is not the internet's boyfriend, nor is it a beefy Marvel superhero. It's singer, actor, and husband of Chrissy Teigen, John Legend.
"I was excited, but I was a little scared at the same time because it's a lot of pressure," Legend told People. "Everyone's going to be picking me apart to see if I'm sexy enough to hold this title. I'm [also] following Idris Elba, which is not fair and is not nice to me!" As People pointed out, Legend has now surpassed his EGOT status by being crowned America's hunkiest hunk. Aside from Elba, Legend joined the ranks of men such as Dwayne Johnson, Brad Pitt, and Denzel Washington.
Blake Shelton, who was crowned Sexiest Man Alive in 2017, apparently gave his Voice colleague a special gift during Tuesday night's show: a pair of bedazzled jorts that said "VEGOTSMA" on the butt, referencing Legend's EGOT and his win on The Voice earlier this year. Legend joked (?) that Shelton's sexiness influenced his win. "I observed every move he made, every utterance that came from his mouth and I think some of it rubbed off on me. I think that has everything to do with why we're here today," he said.
One of the best things about Legend's win (besides those sequined jorts) is that we could expect hilarious commentary from Teigen, whom he has been married to for six years. "My secret is out. I have fulfilled my dream of having boned @people's sexiest man alive!! an honor!!!!!" Teigen tweeted shortly after saying she had "big news" to share. (She also posted a video of their 3-year-old daughter, Luna, looking uninterested as she made the announcement.)
On The Voice, Legend talked about how Teigen, who usually tends to gleefully roast her husband, is actually proud of him. "You know, she makes fun of me almost all the time, but she hasn't even been snarky about this," he said. "She's, like, legit proud of me. I finally impressed my wife."