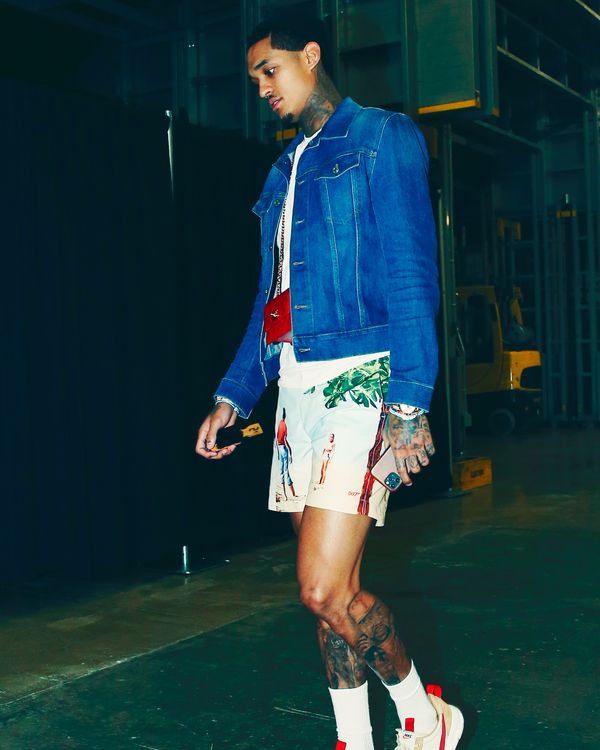 Photo: Michael Reaves/Getty Images
The short walk that NBA players make from the entrance of the stadium to the court has become something of a fashion runway. On Wednesday, Cleveland Cavaliers player Jordan Clarkson strutted into the Miami Heat arena in Florida wearing a Dior denim jacket, Tom Sachs x Nike Craft Mars Yard sneakers, and what appear to be bathing suit bottoms. Notably, he also wore a mini quilted Chanel bag around his neck as though it were a piece of jewelry. He was flanked by his teammate, Kevin Love, who wore a Spice Girls T-shirt.
When I first saw this image, I thought I was being Punk'd. Were my eyes playing tricks on me, or was this enormous man really wearing a teeny-tiny bag? Does Kevin Love really, really love the Spice Girls? I quickly learned that flamboyant sartorial displays are not unusual for either player. For example, Clarkson wore a Louis Vuitton babushka to a game last month like he was the Queen of England. Love, meanwhile, seems to have an extensive collection of graphic T-shirts, and has worn the Spice Girls one before.
This is also not the first time a large professional basketball player has worn a teeny-tiny designer item. Last year, LeBron James got every member of the Cavs to wear a fitted Thom Browne suit for a game against the Indiana Pacers. Conversely, NFL quarterback Tom Brady also recently attempted the giant hat trend. Turns out, athletes are the perfect mannequins for absurdly proportioned fashion items. They make Balenciaga Triple S sneakers look small and tiny bags look like necklaces. Someone needs to get Clarkson the "Le Chiquiti" Jacquemus micro bag next.