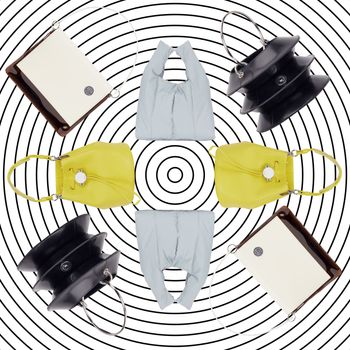 Photo: Courtesy of the Retailer
Luxury indie bag brand Kara is having a flash sale this weekend. So if you've been thinking about getting a fun bag but your pragmatic mind keeps convincing you that you actually need a giant work-friendly tote, well, now's your chance.
Kara is known for its memorable shapes and styles (which sometimes get ripped off by fast-fashion brands). One purse on sale, called the "White Dirt Bag," is shaped like the most stylish box of tissues you've ever seen. If that's a little too crazy for you, there are more subtle options like a black leather purse shaped like a lantern and a powder-blue puffer tote.
The discounts are up to 60 percent off a selection of product from over the course of this year, starting at $45 for a teeny-tiny backpack keychain (that you could also use as bag on its own) and up to $450 for a multifunctional shirt that can be worn around your torso or over your shoulder like a messenger bag. The sale ends on Monday, November 25, and stock is selling out quickly. Scroll below to shop our favorites.
If you buy something through our links, New York may earn an affiliate commission.