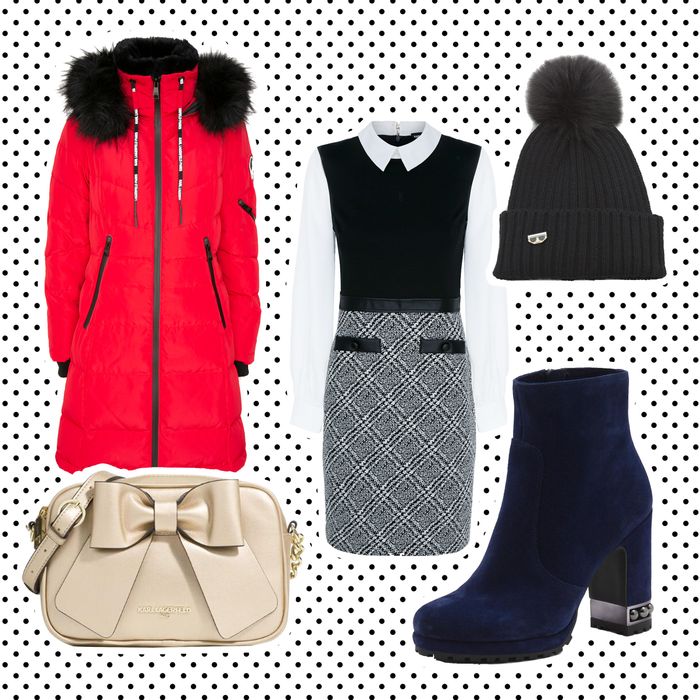 Photo: Courtesy of KARL LAGERFELD PARIS
It can be intimidating to shop for someone with impeccable taste. But choose the right brand, and the heavy lifting is done. If the discerning giftee on your list has a feminine sense of style with an edge — one you might be tempted to call "Parisian cool" — you'll want to check out KARL LAGERFELD PARIS. The French-inspired label has mastered the fine art of designing clothes and accessories that are elegant statements. Here are 11 pieces that prove it.
For the Woman On the Go
Sometimes it's hard to look stylish while running from meeting to meeting and doing quick outfit changes before after-work parties. This too-cute hat goes from one to the other without ever looking out of place.
The Elevated Classic
A white blouse is a sophisticated-wardrobe staple. But if the person you're shopping for wants to elevate things ever so slightly, this is the top for them. The keyhole neckline and gracefully flowing sleeves jazz it up just the right amount.
For the Daily Heel-Wearer
Blue-velvet platform boots aren't for the faint of heart. Good thing these are for the bold dresser who doesn't shy away from making a statement.
For the Girly Girl
A purse may not be the most obvious home for a perfectly tied bow, but that's what makes this bag such a statement piece. Its unique shape will have people asking that question that's really a compliment: "Where did you get that?"
The Statement Coat
Around late December, the idea of putting on a coat yet again gets tedious. It's still cold outside? Really? This bold red number makes getting dressed a pleasure, and will brighten the coldest winter day.
The Foolproof Gift
A pair of high-quality leather gloves is a gift cold-climate dwellers will appreciate, but it's also something they're unlikely to buy themselves. And that's the perfect thing to give somebody! These gloves come embossed with KARL on one side, for a bit of added edge.
For the Person Who Loves to Relax
For anyone who prefers the chalet to the slopes, this cozy après-ski sweater is peak relaxation.
The Matching Pants
Keeping winter leisure alive, these comfy pants, which match the sweater above, are the kind that never get taken off, making them equally good for long plane rides.
The Garçonne Dress
This dress is a classic example of French-girl style. Pair it with black tights, a red lip, and a je ne sais quoi attitude.
For the Person Who Has Everything
A simple scarf is timeless, and when shopping for the person who has everything, it's good to fall back on high-quality classics.
For the Creative Genius
A T-shirt with a quote from KARL LAGERFELD PARIS's namesake is a beautiful script that will inspire the wearer every time they put it on.
All images courtesy of KARL LAGERFELD PARIS.
This is paid content produced for an advertiser by New York Stories. The editorial staff of The Cut did not play a role in its creation.