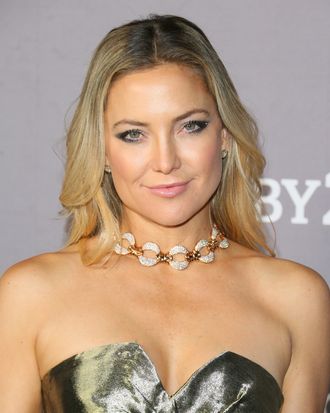 Photo: JEAN-BAPTISTE LACROIX/AFP via Getty Images
As other celebs turn their entrepreneurial ambitions toward cosmetics or weed, Kate Hudson, who co-founded activewear brand Fabletics, is focusing on something classic for her newest business endeavor: vodka. Through an Instagram post, Hudson announced her new liquor company, King St. Vodka, inspired by her former home on King Street.
A fan of dirty martinis, Hudson decided to start her own brand after realizing that the vodka she drank wasn't founded by women (though, there are female-owned vodka brands that exist). "After a particularly long day, I decided to host an impromptu cocktail party with my closest friends," Hudson captioned her post. "As I prepared to whip up a batch of dirty vodka martinis I surveyed my bar, but I wasn't 100% happy with my options. Then I wondered, 'Are any of these vodkas founded by women?' I did some research, they weren't. So, I decided to make my own just the way I like it!" Hudson's vodka, which comes in a nicely designed bottle, is made in small batches, uses alkaline water, and is gluten-free.
Celebrity-owned alcohol companies are becoming increasingly common. John Legend, Drew Barrymore, Pink, and a million other famous people have wine brands, while Ryan Reynolds, Justin Timberlake, and Nick Jonas went the liquor route. When it comes to vodka, Hudson joins celebs such as Sean "Diddy" Combs, who owns Ciroc; Channing Tatum, who started Born and Bred Vodka; and Dan Akroyd, who is behind the very goth Crystal Head Vodka (which can be repurposed into anything from a planter to a fish bowl).