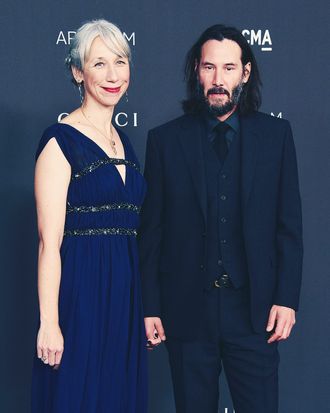 Alexandra Grant and Keanu Reeves.
Photo: Gregg DeGuire/FilmMagic
Earlier this year, beloved internet boyfriend Keanu Reeves expressed [extremely Rob Thomas voice] he didn't want to be lonely no more, and it appears his wish has finally come true. On November 2, Reeves was spotted holding hands and exchanging loving glances with Los Angeles–based artist Alexandra Grant at LACMA's Art + Film Gala, sparking speculation that our humble king has found himself a girlfriend. While some have responded with sadness that the actor is no longer available, the news was widely met with elation. As the Daily Mail notes, Grant is Reeves's "first 'girlfriend' in DECADES." Keanu!
So who is this stunning, tall queen who has stolen the heart of our collective boyfriend? How did she and Reeves meet? And have they checked to make sure they're astrologically compatible? (We certainly checked.)
She's an artist (cool).
Grant is a 45-year-old Ohio native who, according to her website, explores "the use of text and language in various media — painting, drawing, sculpture, film, and photography — [to probe] ideas of translation, identity, dis/location, and social responsibility." (She's so artsy, I can't even fully grasp what this means!) In short, her experience living abroad as a child led her to develop a deep fascination with languages, and how we form and communicate information. She's also the founder of the grantLOVE project, which raises funds for arts-based nonprofits.
She's Reeves's "business partner."
At least that's how the Daily Mail refers to her. In 2011, Grant and Reeves teamed up for what appears to be their first collaboration: a book called Ode to Happiness, which Reeves wrote and Grant illustrated. (Ode! To! Happiness!) In 2016, they collaborated again on Reeves's book Shadows; then, the following year, they founded a publishing company together, X Artists' Books.
So yes, it sounds like they are absolutely the kind of couple who would refer to each other as their "partner."
She and Reeves may have been flirting for a few months now.
While speculation about whether Grant and Reeves are dating has only really started to pick up over the past few weeks, they've been acting pretty couple-y since at least May, when they attended the MOCA Benefit in Los Angeles together. Then, just one month later, they held hands (!!!) at the Saint Laurent Spring/Summer 2019 menswear show in New York City.
More recently, People reports that Reeves and Grant were photographed in October at Santa Monica restaurant Giorgio Baldi, where they "arrived together in Reeves's Porsche and spent three hours inside the restaurant conversing and sharing a meal." Now it's entirely possible that over the past few months, they've just been talking about collabs or something of the sort, and holding hands like close friends sometimes do? Or maybe … they were talking about kissing! Just a thought!
She appears to be a fellow Earth sign, bless.
Keyword: appears. Frustratingly, Grant's birthday isn't listed on Wikipedia nor her website, and I could not find it on her social media channels. (I have also not yet found her on CoStar or the Pattern, but will report back if that changes.) According to some questionable celebrity websites, though, she's a Capricorn — and thank goddess. Reeves is Virgo; Capricorn, like Virgo, is an Earth sign. Really stunning compatibility here! Now we just need a full star chart.
She's a tall queen.
Just like her birthday, her height isn't easy to locate on the internet, but let us take another close look at this photo of her and Keanu, who is, for reference, six-foot-one.
Now let's assume the heels she appears to be wearing are, say, a modest two inches tall; that puts Grant at around six feet tall.
Just one quick q: Is Keanu really still married to Winona Ryder?