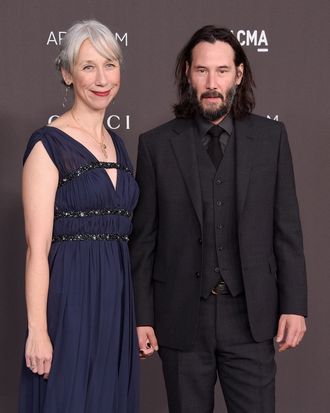 Photo: Gregg DeGuire/FilmMagic
Sorry to us all, but Keanu Reeves may be taken. He recently attended LACMA's Art + Film Gala, holding the hand of an artist named Alexandra Grant. Is this his special somebody, or is he just being lovingly affectionate toward one of his friends?
I haven't heard back from my private investigator yet, but one thing is certain: Reeves and Grant have known each other for quite some time. In 2011, the two teamed up for their first project, a book called Ode to Happiness, which was written by Reeves and illustrated by Grant. According to an article from the Guardian during that time, the book came about by accident, starting from some fake, "self-pity" poetry Reeves jokingly wrote for his friend, Janey Bergam:
Bergam passed Reeves's words to Grant without his knowledge. Grant created the images and made them into a book, which she presented to Reeves, hidden inside the pages of a large, green 1970s travel book called The British Scene. "It was a surprise," says Grant, "and a private gift. We didn't make the book to publish it; it was meant to put a big smile on our faces and make everyone laugh. Then someone said, 'I want five copies,' and that's when the lightbulb went on."
Reeves and Grant also launched a small press together called X Artists' Books in 2017. If you take a gander at (or, ahem, do a deep lurk of) Grant's Instagram, there is evidence of Reeves scattered about. Like this photo from a book signing for their second project, Shadows, which consists of photographs that Grant took of Reeves's shadows during the filming of John Wick. There's also this photo of them at a reading from her book, The Artist's Prison, along with a photoshoot of the two of them from Vogue Spain. And then there's this one where they are lovingly gazing into each others' eyes … but again, it could be totally platonic. Haven't we all looked into our friend's eyeballs once or twice?
But if Keanu Reeves is indeed dating this nice-looking lady, congrats to them. (And their many creative collaborations, which sure sound like a recipe for horniness to me!) The internet's boyfriend is a lonely guy no more.