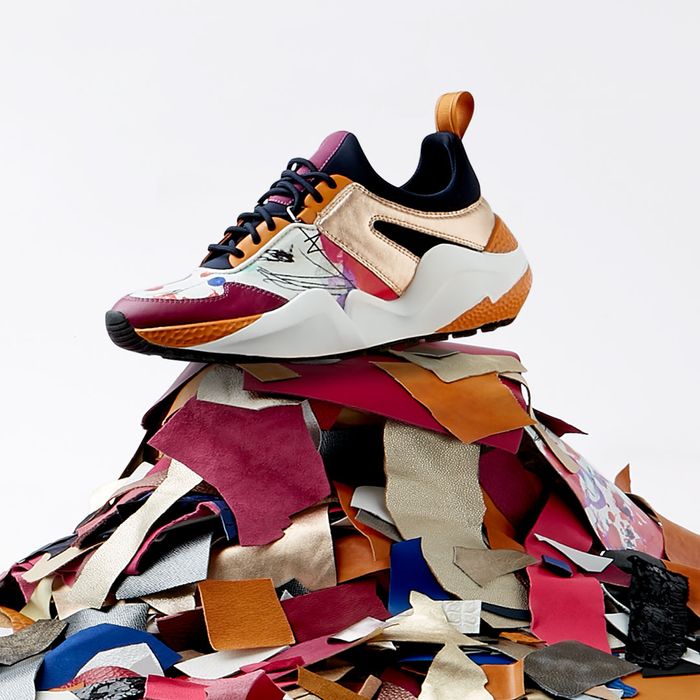 Photo: Courtesy of Kenneth Cole
More than 16 million tons of textiles are created in the United States each year (that's like three of the Great Pyramids), but only 15 percent of that actually gets recycled. Kenneth Cole is one of the designers looking to change those statistics by designing more responsibly.
As a spin-off of its best-selling sneaker, the brand created the Maddox Resource Jogger Sneaker, made entirely from overstock and recycled materials. While most outsoles on shoes are made of new plastic and/or petroleum byproducts, the ones on these are infused with rubber grindings and rice husk material — the hard protecting coverings of grains of rice. Both are readily available waste material.
It's also refreshing to have young talent dedicated to sustainability break into the industry. The brand created the sneaker with Susan Zienty, the winner of the CFDA and Kenneth Cole's 2019 Footwear Innovation Fellowship, which offers fashion graduates the opportunity to be mentored by Kenneth Cole.
Style doesn't have to be sacrificed, either. The sustainable sneaker is available in three styles each for $225. There's a white and cream pair for minimalists and two colorful options that use printed overstock fabrics for maximalists. Shop them all below.
If you buy something through our links, New York may earn an affiliate commission.