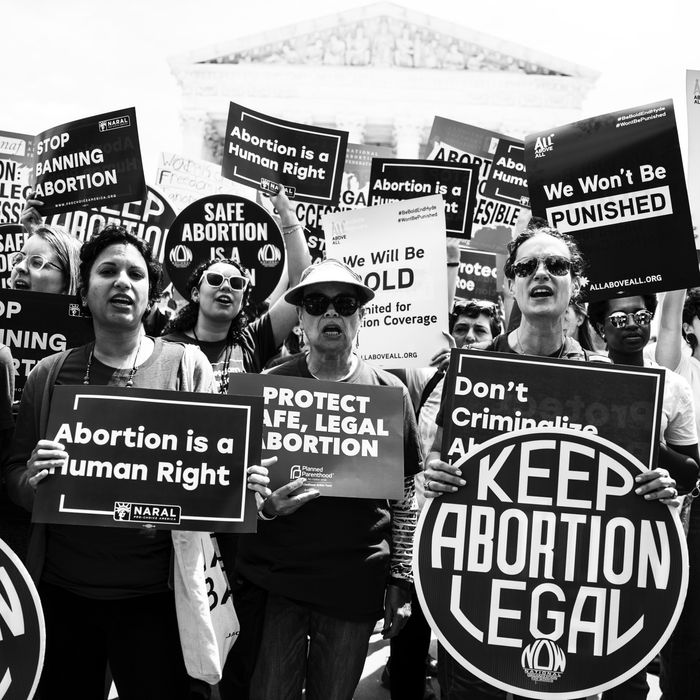 Photo: Bloomberg via Getty Images
Anti-choice advocates were confident going into yesterday's state elections. The Susan B. Anthony List, a group that has seized on Donald Trump's presidency to try and finally overturn Roe v. Wade, had spent $750,000 on ads, mailers, and door-knocking on behalf of incumbent Governor Matt Bevin, who is incredibly unpopular except for one issue (or so they thought): abortion. Since he's known for trying to throw poor people off of Obamacare and blaming striking Kentucky teachers for the death of a 7-year-old girl who was home from school, Bevin's best chance of beating Democratic opponent Andy Beshear was supposed to be his bombastic anti-abortion stance.
Except that it wasn't. The race is still too close to officially call, but as of now, Beshear is ahead by 5,300 ballots, poised to become a governor of Kentucky who ran on protecting abortion rights. Kentucky voters rebuked the narrative that GOP operatives have been trying to sell us us with state ban after state ban: that America's protection of reproductive choice, enshrined in a constitutional amendment since 1973, is no longer popular nationwide.
And Kentucky wasn't the only loss for the anti-choice lobby. In Virginia last night, Democrats flipped both houses in the state legislature, finally wresting narrowly held control from Republicans. This is particularly notable because the state was recently the epicenter of a bitter fight over access to late abortion care: After Democratic lawmaker Kathy Tran introduced legislation that would have reduced onerous state requirements around terminating a pregnancy in the third trimester, she was accused of "supporting infanticide" and faced a torrent of death threats. Conservatives gleefully used the controversy to argue that such unapologetic pro-choice positions would alienate voters and ensure Trump's re-election. But they misjudged. "Today's Election Will Determine The Future Of Late-Term Abortions In Virginia," the Federalist wrote. It did — just not in the way they hoped. Tran ultimately kept her seat.
"SBA List used the Kentucky governor's race and the Virginia state elections the same way they used the 2016 presidential race," Robin Marty, author of Handbook for a Post-Roe America, told the Cut, "by investing all of their money and resources into motivating voters who were wavering on GOP politicians to believe that opposing abortion is the only issue that should matter. And they failed. Spectacularly."
The results are a blow to the coordinated, decades-long effort by far-right groups to overturn Roe through state laws and an anti-choice judiciary, which has been terrifyingly successful so far; the Supreme Court announced on October 4 that the court would consider a Louisiana abortion law, the first major test of Roe since Justice Brett Kavanaugh was confirmed last year. SBA List helped hammer through the confirmation of both anti-choice justices Kavanaugh and Neil Gorsuch.
"For 2020 they will no doubt try again, focusing on small populations in swing states to give them just the right margin to win the electoral college for Trump, despite his massive unpopularity. They could still pull it off, because their pockets are deep, but clearly it will be a much harder battle than they were expecting," Marty says.
Last night's results should be a bellwether for not just abortion rights, but for many progressive policies Democrats will be running on in future state elections, and in 2020. Supposedly controversial issues like abortion, Medicare for All, the Green New Deal, and free college tuition are, in fact, widely popular, and the GOP's attempts to consolidate power by turning them into poison pills should embolden Democrats, not push them to appeal to some ostensibly "moderate" base — despite what some people have been trying to tell us.
Speaking of a so-called moderate base, Joe Biden's hometown of Scranton just elected its first woman mayor: a 39-year-old insurgent candidate who ran on finally defeating "the same old boys club." Its members far and wide should be worried.