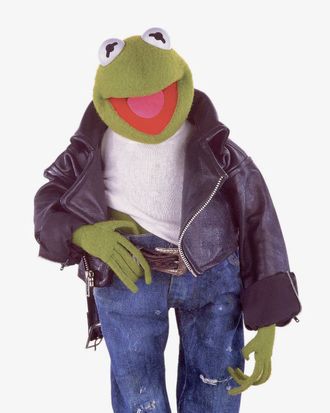 Photo: @KermitTheFrog/Twitter
Kermit the Frog is the original fuccboi. He is a man who went out with a woman for over 40 years, but could never really commit. Yes, Miss Piggy could be difficult and abrasive, but like, either stay or leave, don't leave her suspended in some sort of half-relationship where you say that you're "married in your hearts," whatever that means. Anyway, in a quintessential fuccboi move, Kermit has pivoted from TV frog and occasional musician to online fashion influencer.
"As a frog, I don't know the first thing about fashion … but even I know when an outfit looks good!" Kermit tweeted along with that picture you see of him there, in the leather jacket and jeans. To his credit, it's an impeccable fit. Indeed, though it's difficult to watch a commitment-phobic manchild inevitably succeed at whatever endeavor he stumbles into, it must be said that Kermit's looks have been on point.
Look at this throwback he posted in October (which includes Miss Piggy, but he didn't tag her. Shady … ) In it, he's sporting the kind of stylish denim ensemble one would wear to go watch the leaves change up in Maine, and then post a bunch of pictures of with tongue-in-cheek captions like, "Christian Frog Autumn."
Then there's this little suit-sweater combo, that he wore without shoes, and that looks like something a literature professor at a small liberal arts college would wear when he invites you into his office to discuss Byron and enjoy a nip of Bourbon.
And of course, like any fuccboi worth his salt, he posted a pic of himself at the gym.
Kermit's latest "sort of girlfriend," Denise, has yet to comment on the frog's career development, but they're probably keeping things casual, anyway.