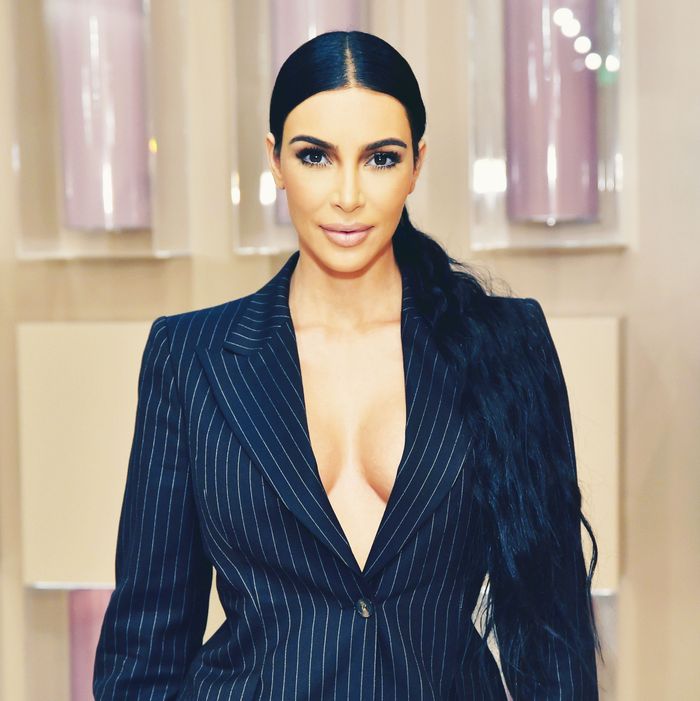 Photo: Stefanie Keenan/Getty Images for KKW Beauty
I don't think I'm alone when I say that most of my sleepless nights involve falling deep into a Kardashian K-hole. Last night was no different, although the content was racier than usual.
Kim Kardashian West just launched body tape and pasties as part of her new shapewear line, Skims, and her feed was one image after another of boobs, boobs, boobs. I'm not talking casual cleavage. I mean multiple video testimonials from topless women happily wearing nothing but a Kardashian-branded pasties. I was struck by what they put on after. Once they cupped, lifted, and securely taped each of their breasts, every single woman proceeded to put on a suit.
"I feel so good under this jacket," said one. "I can just go out for a fun night."
"Wow! I've never been able to wear a plunging neckline like this and feel so supported," said another, adding that she had a few dresses she'd like to try with the tape as well.
Every decade is defined by its suits. The '80s were all about power shoulders. Suits in the '90s were oversize. In the 2000s, we got comfortable in tracksuits. And as we enter 2020, a new trend emerges: the Boob Suit. The U.S. Women's National Soccer Team loves a Boob Suit. So does Kristen Stewart. And Kardashian West herself is no stranger to it either. To coincide with her Skims launch, she posted multiple images of herself wearing a suit without a shirt — like her look at the 2017 LACMA Gala — and revealed that she was wearing body tape underneath the whole time.
Emily Ratajkowski also embraced the Boob Suit this week. On Tuesday, she launched a collection of matching miniskirts and blazers under her own line, Inamorata, modeling them on Instagram for her 24 million followers. Naturally, she never wears a shirt, and in one photo, she's got no top on at all. Where is she wearing these suits? Who knows. But why not give the Boob Suit a try?
It's also unclear whether or not EmRata is wearing boob tape underneath her Inamorata blazer, but it doesn't really matter. The point is that this traditionally masculine garment has been co-opted by Instagram's most boob-friendly influencers, and they all look great. I'm no Wall Street guy, but if I were, I'd expect the Boob Suit's stock to rise in 2020.