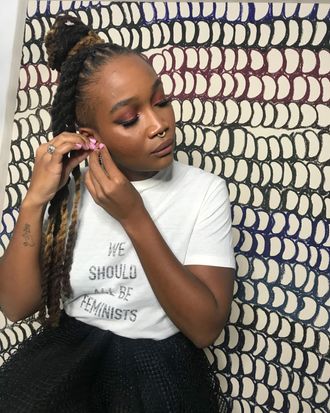 Kimberly Drew getting ready for the Guggenheim Gala.
Photo: Courtesy of Dior
A lot of celebrities and models head to the Guggenheim Museum every fall for its international gala thrown by Dior (also known as the Guggenheim International Gala Made Possible by Dior). But rest-assured that members of the art world are in attendance, too.
Curator Kimberly Drew, also known as @museummammy on Instagram, is one such author-activist-attendee who toasted the institution and got to go in the cool photobooth on the big night.
The Cut caught up with the founder of Black Contemporary Art, former social-media manager for the Met, and budding runway star, as she prepped for the party with Dior beauty to talk deadlines, rising signs, and glitter mantras to carry with us into 2020.
What's your nighttime beauty routine like?
I put on rosehip oil and then I usually put on a more intense moisturizer, like Kiehl's Ultra Facial Cream.
What time do you go to bed?
I go to bed when I go to bed. There's no consistency — I wish!
What three things do you always have on you?
I always have my phone, and I usually have rose quartz at the bottom of each of my purses. It's so funny because two of my best friends are very into reiki and there are tinctures in the kitchen, and all that herbalism stuff. And I am from New Jersey. So I don't have any cultural background in any of that, but leaving rose quartz in the bottom of my purse is something that I can't forget to do, so it just stays there. And the third is my headphones.
When's the last time you were really nervous?
I'm nervous every day. I'd say the most nervous was probably before I interviewed Lynda Benglis at Stanford University, because we've never met, and she's an artist in her seventies, and she's just a legend. And she's a Scorpio. She may be a triple Scorpio. It's intense.
What color are your nails currently and why?
They are lavender and metallic, because over the summer, my friend was like, "Glitter is the new neutral," and I've been wearing glittery nails ever since. I did silver for the night of the Met Gala and I was like, "Oh this is too extra …" and he was like: Glitter is the new neutral … But I always keep my nails done, especially as a writer, because I look at my hands more often than most people, so I have to keep them cute. When I am on big deadlines, they're usually pink because it makes me happy.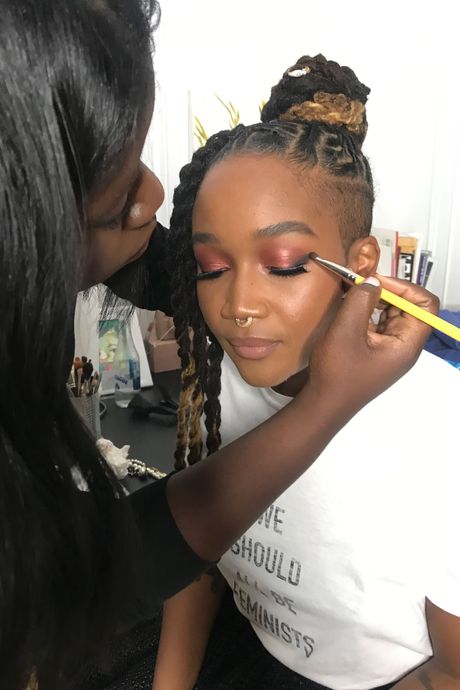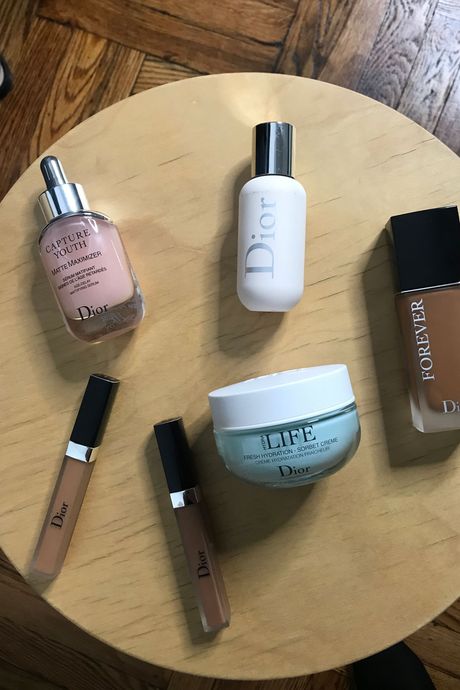 Okay, rapid-fire round:
Smoky eye or cat eye?
Cat eye, with like a smoky eye rising. I wish I could do a smoky eye. I do not have that skill set.
Matte lips or glossy lips?
Glossy.
What's the last song that was stuck in your head?
This U2 song which is so shitty. I forget what it's called. I woke up like singing it to myself and I was like This can't be U2. Oh, it's called "With or Without You." I put it on this playlist because I was like Wow you're really in a spot …
What's the last thing you binge-watched?
Insatiable on Netflix.
What's on your phone's lock screen?
It's that cat meme. But just the cat. Just the cat from the woman yelling at the cat meme.
What's the last text you sent?
"You're the star of the show, never forget."
And lastly, what's your favorite snack?
Cashews. Actually, gummy bears. Gummy bears. The real answer is gummy bears.
If you buy something through our links, New York may earn an affiliate commission.