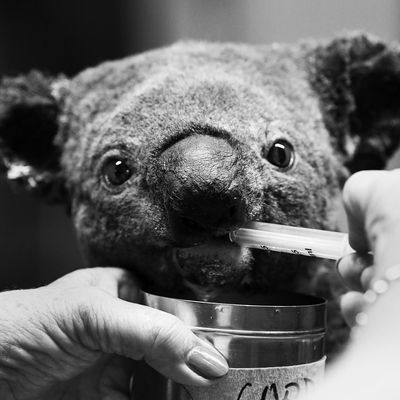 Bushfires are ravaging Australia, threatening the koala population.
Photo: SAEED KHAN/AFP via Getty Images
Over the weekend, Forbes reported that the bushfires ravaging Australia have destroyed so much of koalas' habitat that the native marsupial is now "functionally extinct." While the alarming classification can be used to refer to a number of precarious situations — when a species no longer plays a significant roles in its ecosystem, or when a population is no longer viable — the presence of the word "extinct" sparked a flurry of panicked headlines and widespread concern.
Though the fires that have ripped through the land, and in particular New South Wales, and have reportedly destroyed hundreds of homes and millions of acres of forest, much of the coverage has centered on the vulnerable marsupial. In a more recent statement, the Australian Koala Foundation said that the fires — and the hot and dry conditions that spurred them — have killed 1,000 koalas and destroyed nearly 80 percent of their habitat. And, over the past week, distressing photos of severely burned, dehydrated koalas — as well as stories of their rescues and subsequent deaths — have circulated on social media.
"It's a national tragedy," Port Macquarie Koala Hospital clinical director Cheyne Flanagan told ABC News Australia. On Today, Koala Conservation Australia president Sue Ashton expressed similar anguish: "I don't know how we are going to come back from this."
The crisis demands immediate action. However, some researchers have started to question the use of the phrase "functionally extinct."
"What is particularly frustrating about the term 'functional extinction' is it indicates a population that is basically past the point of no return, so it means that nothing really can be done," Jacquelyn Gill, an associate professor at the University of Maine's Climate Change Institute and School of Biology and Ecology, told the Times.
Researchers stress that the fight to protect koalas and their habitat is not a lost cause. Per the New York Times, due to the difficult nature of measuring population, the number of surviving koalas could be higher than 80,000 — the number that the Australian Koala Foundation says is still in Australia. For example, the International Union for Conservation of Nature's Red List, the world's most authoritative guide to the conservation status of biological species, estimates that there are around 300,000 koalas in Australia, classifying the species as endangered — though that number is declining.
As Noah Greenwald, the endangered species director at the Center for Biological Diversity, told the Times, calling koalas functionally extinct "would almost suggest that we give up hope, and I don't think it's at that point yet."