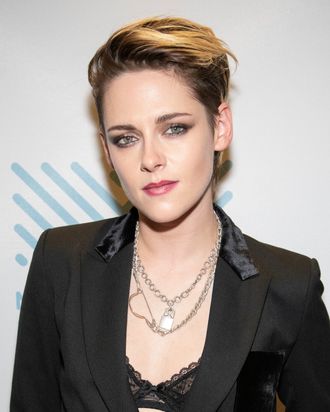 Photo: Kimberly White/Getty Images
They say Mercury retrograde is a time of truths coming to the surface. Could this be why there are so many reveals happening right now?! First, with the unveiling of Keanu's hot artist maybe-girlfriend, and now, Kristen Stewart has told the world that she's planning to marry her partner. (Wait, could this also be horny Scorpio season doing its thing?) Whether due to the influence of the cosmos or cuffing season, or just people going about their lives, there is definitely something in the air.
This confession is particularly interesting for Stewart, as the 29-year-old actress has a reputation for being private when it comes to her relationships. But during an interview on The Howard Stern Show, Stewart shared that she was in love and planning to marry her screenwriter girlfriend, Dylan Meyer. "Absolutely," Stewart replied when Stern asked if she would propose. "I can't fucking wait." Damn, okay!
Stewart said she and Meyer had once met on the set of a movie, but they didn't start dating until six years later when they bumped into each other at a friend's birthday party. Then, "all bets were off." After two weeks, Stewart was allllll in, baby. "The first time I told her I love her … it was like really late and we were in some shitty bar and her friends were there or whatever, and they like walked out, and I was just like, 'Oh man, I'm so fucking in love with you,'" she said. "Like, done."
As for how she will pop that question, Stewart said that she had "a couple plans that are just the coolest things to do," but wanted to keep it a surprise for Meyer. She also described herself as being "pretty impulsive," which means she could propose at any time! (She is an Aries, after all.)
But she did say immediately afterward that she and Meyer were "both from L.A." and "really love L.A.", which makes me think that her proposal would have something to do with their hometown. Would she plan a proposal at the Los Feliz Murder House? (She lives in the area.) Or if that's too goth, during a show at the Bob Baker Marionette Theater? Who knows? I'm already thinking about the suit Stewart would wear. (Chanel, probably.)
Before Stewart began dating Meyer, whom she called "brilliant," she was linked to model Stella Maxwell, singer St. Vincent, the stylist and fashion blogger Sara Dinkin, and, of course, was in a longtime relationship with her Twilight co-star, Robert Pattinson.