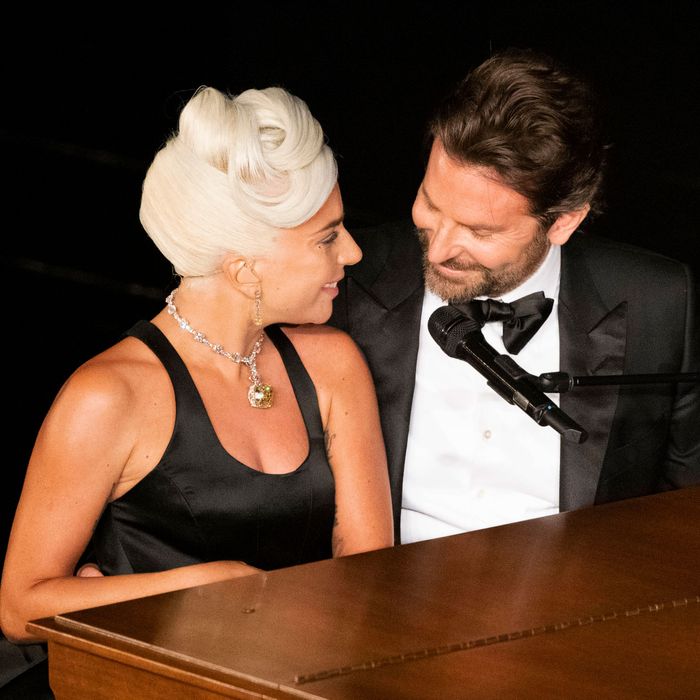 Lady Gaga and Bradley Cooper's Oscar performance of "Shallow." Remember it?
Photo: Ed Herrera/Walt Disney Television via Getty
The year is 2267. What remains of Earth's human population has relocated to a nearby planet, one more inhabitable than their ravaged home. One night — a long, cold night, that lasts eight months — a group of humans hears a scratching outside their insulated survival pod. The leader puts on their thermal suit and steps outside. They call out, and from the darkness, a small figure emerges. Five-foot-two, maybe. She is neither alive, nor dead, but suspended somewhere between realms. She still has work to do here. She lets out a ghostly cry: "HAA AH AH AH AHH AHHHHH HAAA AHH." The pod leader shivers. "Who are you? What do you want?" they ask. The figure approaches. "There can be 100 people in the room," she whispers, "and 99 don't believe in you, and just 1 does. And it can change everything. I wouldn't be here if Bradley didn't believe in me."
This is the A Star Is Born press tour, 248 years from now, still forging full-speed ahead.
Today, in November 2019, humans are still Earth-based, and the movie's press campaign is still going as strong as when it premiered over a year ago. The latest item: an interview Lady Gaga did with Oprah in Elle, in which the two women discuss Gaga's intimate, much-talked about Oscars performance of "Shallow" with her A Star Is Born co-star and director, Bradley Cooper. At the time, the performance stoked existing rumors that the two stars had fallen into a relationship on set, even though Cooper was with model Irina Shayk at the time.
Cooper and Oprah discussed the performance and the rumors when Oprah went over to his house for dinner one day. "We were talking about all the rumors about you guys last year. He said if they had been true, he never would have been able to look you in the eye sitting at that piano," the mogul tells Gaga.
Gaga agrees and replies, as she has before, that the performance was designed to make people believe that she and Cooper were in love, because that's who their characters were. "For me, as a performer and as an actress, of course we wanted people to believe that we were in love," she said. "And we worked hard on it, we worked for days. We mapped the whole thing out — it was orchestrated as a performance."
So there you have it, the latest piece of the A Star Is Born press. I can't wait for my children, and my children's children, and my children's children's children's children's children to enjoy the same stories and talking points we have.