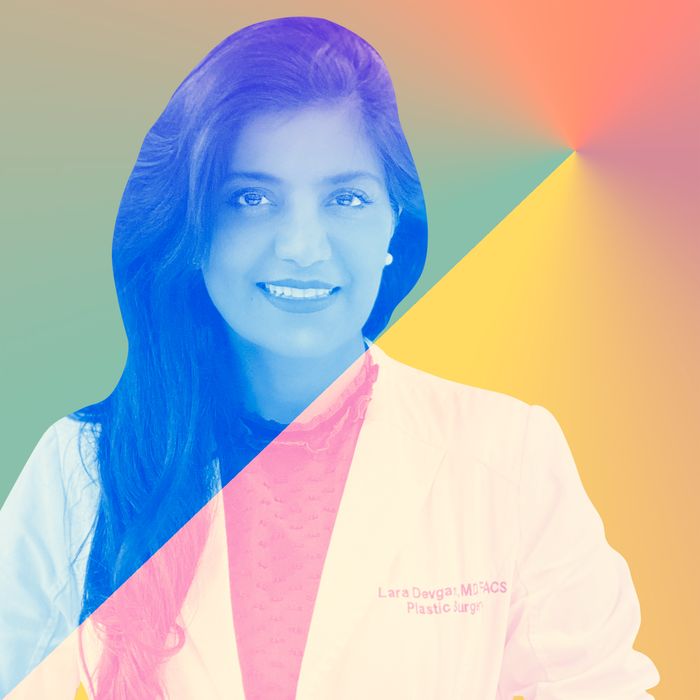 "Plastic surgeon." It's almost an anachronistic term now, conjuring up old Park Avenue face-lifts — the kind resulting in features pulled back beyond the point of recognition and the inability to shut one's eyes.
Lara Devgan went into the field to change that, and while her practice may reside on Park Avenue, she has become a favorite among the fashion crowd thanks to her delicate hand and artistic approach. You might not know it, but she's probably tended to at least one person you follow on social media.
Devgan was born artistic. Some of her earliest memories were of the drawing classes she attended at the former Getty Museum, down the street from her home in Santa Monica. Both of her parents might be doctors (her father is an otolaryngologist and head and neck surgeon, her mom a family physician and dermatologist), but Devgan wanted to be a writer — specifically, a medical journalist. As an undergrad at Yale, she researched and wrote about the health challenges that relatives experienced, but at a certain point came to the realization that she didn't want to document these procedures; she wanted to perform them.
On track to become a cancer surgeon at Johns Hopkins Medical School, another epiphany resulted in another pivot. "I'd be observing the procedures, but after the cancer was removed, I found myself sticking around to watch the plastic surgeons do their work," she remembers. "I realized, 'That's what I want to do.'"
She moved to New York and worked under a number of plastic surgery legends, including Dan Baker, Sherrell Aston, and David Hildalgo, but she ultimately decided to hang her own shingle, in 2013.
"I wanted to change the conversation about modern beauty," explains Devgan. "I wanted to present my own take on what is natural, and how to make beauty tweakments come from a place of empowerment. I wanted to dismantle the idea that it is okay to maintain your hair and teeth and abs, but not your face. I wanted to make subtle the new dramatic."
There is also an eponymous skin-care line, and a podcast, Beauty Bosses, whose guests have included Jill Kargman, Cassandra Grey, and Frederic Fekkai. And did we mention she has — count 'em — six children?
Devgan spoke with the Cut about her fantasy car, bad Botox, and her favorite music to perform surgery to.
What's your definition of beauty?
Beauty is the kindness that comes with confidence, peace, and awareness.
What do you think when you hear the term "clean beauty"?
I like the idea of eliminating known bad actors from our beauty products — parabens, sulfates, excessive and wasteful packaging, and things that are harmful to our bodies or our environment. But I have also seen mold growing in organic creams, and heard stories about vegetable oils being manually packaged at the kitchen table without gloves. I like the idea of non-toxic beauty and a low carbon footprint, but we still have to use science and modern medicine if we want clinically effective and scientifically sterile ingredients.
Where, if anywhere, in your beauty (or life) routine are you not quite that "clean," "green," or "sustainable"?
See above — I mitigate clean with efficacious for my routine. I think medical-grade ingredients that really work are preferable. Science is here to help us.
Please fill in the blank as it pertains to something connected to your beauty routine: I think about _______ a lot.
The tiny details.
What is the opposite of "beautiful"?
Unkind.
What is your morning skin-care routine?
Hyaluronic, eye cream, and SPF BB cream from my line — I like to keep things simple and effective.
What's the last beauty product you use every night?
Dr. Devgan Scientific Beauty Vitamin C & Glow Serum (retinoid).
Blush of choice:
Westman Atelier Color Stick in Petal.
Mascara of choice:
Able Cosmetics No Mess'Cara.
Bath or shower?
Shower, with Le Labo Rose 31 or Santal 33 shower gel.
Shampoo/Conditioner of choice:
The One by Frederic Fekkai.
Facial cleanser of choice:
Dr. Lara Devgan Scientific Beauty Platinum Revitalizing Cleanser.
Scent of choice:
Truth by Calvin Klein. (It's discontinued, but I find it in the deep recesses of the internet.)
What, if anything, is usually on your lips?
Platinum Lip Plump, my medical grade lip plumping gloss, but I also love reds from Chanel and Tarte.
What shade, if any, is usually on your toes and/or hands?
Usually nothing because I wash my hands 100 times a day. I keep my nails short and clean.
What aspect of your beauty routine tends to be neglected?
I'm a little irregular at taking my vitamins.
Purse of choice:
Chanel.
Work shoe of choice:
Chloe mid-height heels.
Casual shoe of choice:
Tods flats.
What is your classic uniform?
A three-quarter length shift dress (Laura Garcia, Alexis, Red Valentino, and Zimmerman), pearl earrings, Wolford stockings, and a white lab coat.
What is the ultimate decadence to you?
This is barely conceivable to me, but a luxuriant spa and self-care day, complete with a bubble bath, massage, some '90s U2, the Sunday New York Times, and a cinnamon latte — and my kids and husband all quietly reading nearby.
What do you most often disagree with others about?
I always want to innovate and look for new solutions to problems that have always been there. I never want to just inherit an answer without thinking through it and trying to improve it. Some of the most innovative things I do — like nonsurgical rhinoplasty or finesse blepharoplasty — are my take on procedures that existed before I was born. My approach to thinking about plastic surgery as augmenting global facial beauty, rather than the systematic elimination of flaws, is my way of making a tricky industry feel empowering.
What phrase drives you crazy when others say it?
"It is what it is."
What would the name of your autobiography be?
Plastic (meaning "changing," not the polymer — but obviously a double entendre.)
Who would star as you in the film adaptation?
Probably one of my daughters. They're only 3 months and 1.5, but they look just like me, and Hollywood skews so young …
What do you think Pantone's color of 2020 should be, and why?
Tabula rasa pure white. I think 2020 will be a year of fresh starts — a blank slate with limitless possibilities and 20/20 vision. I think white — the absence of color — evokes the idea that we are all rewriting our own rules.
Nickname you had as a child:
Lara Lipstick.
What item stresses you out if you're running low on it?
Diet Coke.
What do you wish you had invented?
Botox.
What would you still like to invent?
Botox that lasts for a few years.
Favorite meal and where:
Lately I'm obsessed with the tuna tartare at Amaranth and the linguine alla Vongole at Elio's.
Comfort food:
My husband makes the most amazing spaghetti pomodoro. It's simple but delicious.
Most impressive dish you make:
Chocolate chip cookies with walnuts.
Favorite music to listen to during surgery:
Either classical music or classics, like the Cure, U2, the Killers.
Favorite piece of art in your home:
I have an original Warhol soup can dress that I love. It was originally intended to be worn once and thrown away — a nod to disposable, ephemeral, frivolous pop culture — but it was salvaged by its original recipient, and now it's framed in my office. It reminds me to find value in everything.
What product in your company's domain is misunderstood and should be a best seller?
My Platinum Hyaluronic Serum is life and skin changing. It actually is one of our best sellers, but I don't think the concept of hyaluronic serum has gotten enough air time as of yet.
Yes, this is cruel, but what is your favorite product in your domain (understanding that this could change all the time)?
My eyelash growth serum, Platinum Long Lash. I get compliments on my eyelashes everyday.
What do you foresee as the top beauty trends in 2020? 
I think we are aging completely differently than the generation that came before. On some level, people don't want plastic surgery anymore, and if they can avoid it, they absolutely will. In 2020 there will be an even more extreme emphasis on prevention, minuscule interventions, and the next generation of injectables. I predict that injectables will do for plastic surgery what stents did for cardiac surgery — reduce the applicable audience by a tremendous degree.
If you won the Power Ball tomorrow, what are the first five things you would do? (after, of course, donating the majority of it to your top charities…)
Take my kids to see their ancestral roots in India and Belgium, send my parents on a luxurious vacation, arrange a massive reunion for all my family and friends, morph a Tesla with a Honda Odyssey to get my dream vehicle, and take my kids' whole schools to Disneyland.