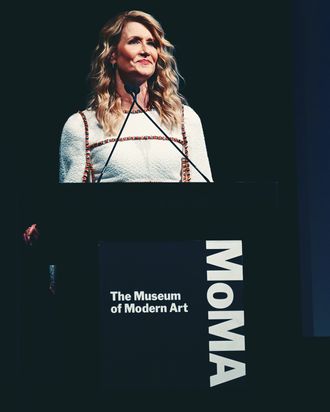 Laura Dern.
Photo: Jamie McCarthy/Getty Images for MoMA
Stars gathered at the newly reopened Museum of Modern Art Tuesday night to honor Laura Dern during MoMa's 2019 annual film benefit presented by Chanel. And while we all have plenty of reasons to adore the inaugural Vulture Fest honoree, toucher of Timothée Chalamet's hair, and lover of car washes, it seems other celebrities love her just as much as we do.
Just before Dern walked the red carpet wearing a long white tweed dress from Chanel's Paris-New York Métiers d'Art collection and gold Chanel boots that would make even Renata Klein proud, Gwendoline Christie had nothing but praise for the Big Little Lies actress. "She is truly, truly a hoot. When I first met her, I was very overwhelmed and she immediately put me at ease."
Dern's longtime friend and benefit co-chair Naomi Watts said her expansive career is only getting better. "I just love that everything she takes on is so raw and open and devoid of vanity."
The event's main presentation included speeches and messages from filmmakers, actors, and MoMa's chief curator of film, Raj Roy. Roy described of his own awe of Dern's performance in Wild at Heart as a teen and his enduring admiration for the actress, saying he "couldn't think of a more important artist to honor" for MoMa's 12th annual film benefit, which raises funds to preserve cinematic works in the museum's collection.
Dern's Marriage Story co-star Adam Driver and director Noah Baumbach applauded Dern's dedication to her craft in their speeches, which Driver said was apparent not only from their working together, but the liveliness of every character she portrays on screen.
"There was no one I know who navigates the extremes of a work day, and the extremes of this business with such grace, ease, thoughtfulness, intelligence, compassion, and conviction as Laura Dern," Driver said. "Which I think should come as no surprise because you can learn a lot about her through her work without her having to say anything. It's an illusion in most cases, but as far as Laura is concerned, she is what you assuming hope she'll be."
The night also included a performance from Maggie Rogers and Jon Batiste.
"I'm just such a fan of everything she's done," Rogers said. "I mean, big Blue Valentine fan and I love Big Little Lies and I'm so excited to see Little Women too, so I'm here for all of it."
But probably the most apt description of Laura Dern and her work came from Naomi Watts, who called her simply  "Laura Fucking Dern."
See below for more photos from the benefit.