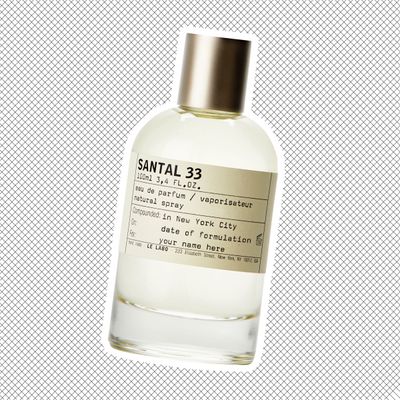 Photo: Courtesy of the Retailer
In a recent Quinnipiac poll, one in five women said she wears Le Labo Santal 33 as her preferred fragrance.
Okay, that's not true — but you did kind of believe me, right? That's how popular the figgy, leathery sandalwood scent has become since its launch in 2010. It's the smell of high-end hotel lobbies and celebrities from Meghan Markle to Brad Pitt to Justin Bieber. But the crazy thing is, it almost wasn't made at all.
Former L'Oréal executives Fabrice Penot and Eddie Roschi launched Le Labo in 2006 with ten fragrances and one sandalwood-scented candle, Santal 26 — which would later morph into the line's signature fragrance. As beauty director at W Magazine, I'd managed to nab the exclusive, and Penot took me through the collection. I remember I thought he was charming (those lagoon-colored eyes! That lilting French accent!) but I was more impressed with his sense of humor and guerrilla marketing tactics. (Le Labo was refusing to do Black Friday way before it was cool.)
At the time, the line didn't include a single perfume that implemented the distinctive warm, creamy, woodsy glow of sandalwood. Ironically, the guys had initially made a prototype of what would become their best-selling fragrance. But, says Penot, "we dropped it because we wanted to keep the collection tight, and we didn't see it as part of the best." Instead, they turned it into the Santal 26 candle, funneling their last remaining dollars into a run of 300 because it was the smallest production number available. I was impressed by the fragrances, but I really liked that candle.
I was in the minority, though. When Le Labo opened the doors to its Nolita store, customers were charmed by the fragrances, especially the labels, which were customized by the wearer's name and an expiry date. The candle, on the other hand, just sat there. No one noticed it, hardly anyone bought it, until hotelier Ian Schraeger encountered it. He ordered a run of similar — but smokier — custom candles for the Gramercy Park Hotel, which he was in the process of renovating into a fashion hot spot.
Meanwhile, the Santal candles continued to take up room in Le Labo's basement. That's where I come in again. As a combination thank-you and wedding gift (I got married a few months after the W piece came out), Penot and Roschi unloaded that inventory on me and my husband, labeling each vessel with our names and stamping our wedding date instead of an expiration one.
Thirteen years later, guests still talk about that candle. And guests of the Gramercy Park Hotel were just as taken with the cozy scent that they were smelling. People started showing up at the store, asking about it.
"We were like, 'That's exclusive to the hotel, but we have the mother of it!'" says Penot. Then he'd tell people that the Santal 26 candle would be restocked soon, maybe in a few months. "We had to invest in a new production to make up for the ones we foolishly gave away to you. That candle represented about 70 percent of our turnover for the first two or three years."
As for me, I was busy smearing wax on my neck, totally intoxicated by the scent of the candle. I begged the guys to make a wearable version, but they wouldn't listen. "We ignored the few friends, including you, who said, 'You should go for a perfumer version,'" remembers Penot. "We were too busy keeping the boat afloat."
The boat was kept afloat by J.Lo, who ordered 100 candles every month, sometimes 200. (She's now down to 50 monthly, which is still not too shabby.)
Four years passed. A room spray had been added somewhere between the launch and year one, but not even a murmur of a wearable sandalwood. That all changed when, on a warm June afternoon in 2010, Penot stopped on the corner of Prince and Mott to join a small crowd that was watching the World Cup on a TV screen inside. Here's how Penot remembers it:
"I try to focus on the game, but something is bothering me. The guy in front of me smells amazing. I am the weirdo who can't get enough of his smell and starts getting closer and closer, enjoying every whiff from it."
He finally mustered up the nerve to ask the man why he smelled so good.
"The guy was French and he answers, kind of embarrassed, 'Well, it is actually not a perfume … it is a room spray. I buy it at that little store on Elizabeth.'"
"I was like, What? The genius who made that perfume I wanted to knock off is me? Shiiiiiit." He called his business partner immediately. "We have our next perfume, and it has actually always been there the whole time. It is Santal."
There was a glitch: They'd vowed never to perfume people the same way they perfume houses, as Roschi pointed out. Turning a candle and a room spray into a fragrance would violate that oath. But Penot was undeterred: "It is time to change our minds," he said. "This is it, man."
They reached out to perfumer Frank Voelkl, who had created the original, discarded sandalwood fragrance, as well as the candle. "I was actually wearing the fragrance quite often, and I always received comments," says Voelkl. "I would, of course, not give it to anyone else, but over the years I tried to convince Fabrice to sell it. The candle was paying their rent, but maybe he wasn't sure what would happen if they made a perfume out of the scent. Would one take away the allure from the other? He had not been very keen on going there, but when he smelled that guy wearing the room spray, that was the trigger."
Voelkl tweaked the mix to be "a little deeper and more comfortable" (Penot's description), and, in a few weeks, it was ready. When I received my bottle, I doused myself in it and started spreading the word like a giddy schoolgirl. It became my signature scent, but for years, I felt like the only one. People would walk into a room I'd recently vacated at work, sniff the air, and say, "Jane's been here." (I did say "doused").
Somewhere around its third or fourth year, I began to notice that others were wearing my Santal 33. An article in the New York Times from November 2015 described the zeitgeist: "Like an under-the-radar It bag prized for its unidentifiable features and nondescript branding, Santal 33 quickly became a sort of cult secret, whispered through wafts of sandalwood and cedar, only detected by those in the know."
And those in the know were quickly being joined by those who wanted to be part of the mystery. I went from feeling flattered to oddly proprietary. How dare these new wearers not run this decision by me beforehand! I don't go around making peace signs in photographs because that's Eva Chen's thing! I don't have people sit on my lap because that's Laura Brown's thing. 
When Estée Lauder Companies acquired Le Labo in 2014 for a reported $60 million (according to WWD) I fired off an email to Penot with the subject line "WE'RE RICH! WE'RE RICH!" (for the record, I did not make one dime off of that business transaction).
"Santal 33 is the icon fragrance of an entire generation, male and female," wrote John Demsey, executive group president of the Estée Lauder Companies, who instigated the deal, along with others, including Frederic Malle, Too Faced, and GlamGlow.
For their parts, Penot and Rischi are still involved, but also doing other things (in an email, Penot teases, "Thinking slowly of the next revolution") and Voelkl continues to create scents for them. And sandalwood seems to have enjoyed a newfound popularity since 33, or at least that's how my nose smells it. There's Tom Ford Santal Blush, Diptyque's Tam Dao and Ok Fine SGO (which stands for "Sandalwood fragrance aged in a Gin seasoned American Oak barrel"), to name just a few.
"The ingredient name typically is not the whole story," says Voelkl, who also created the brand's City Scents, including Tokyo Gaiac 10, Dubai Cuir 28, and New York Tubereuse 40. "There are many other things going on in that fragrance. A lot of strong, powerful, impactful notes in there that are sort of fighting and smoothing each other out. It's complex and simple at the same time." Let the record show that the number attached to the note connotes the number of ingredients in the fragrance, not the number of attempts it took to nail the scent, as others have reported.)
Over the past few years, I've joked about being the reason Santal 33 exists. But then Penot wrote this to me:
"Are you part of this story? Yes! Did we launch it because of you? No. As a matter of fact, we almost killed it because of you, giving you our all inventory. But there were many signs that showed us along the way that we had magic under our eyes — and your obsession with Santal was one of them."
Just call me Squeaky Wheel.