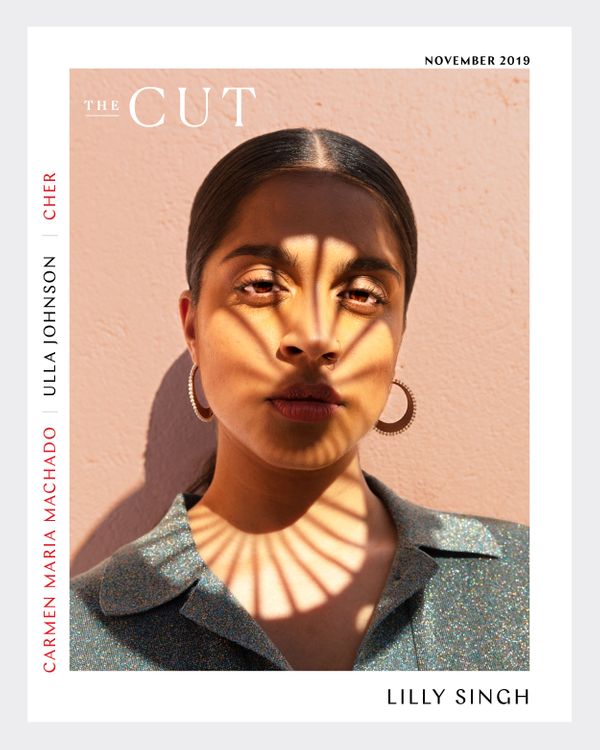 It's a time of transition and self-discovery for comedian turned NBC late-night-show host Lilly Singh. Known for her notable YouTube career and openness about her personal life, Singh's newest gig is flipping the late-night-show scene on its head. This month, she is the Cut's cover woman in a dynamic photo spread shot by Djeneba Aduayom.
A mix of soft colors and mesmerizing light helped capture Singh's natural strength in the close-up cover photo. "I wanted to this cover to be shot outdoors with deep shadows, hard sensual light, and graphic line," said the Cut's senior photo editor Liane Radel. "L.A. has such a specific special light in the afternoon. I was waiting for the right subject for that light, and Lilly was absolutely perfect."
Although for her show, Singh often wears structured suits and electric colors, fashion director Rebecca Ramsey opted to dress her in softer garments with lots of movement, including the Lurex sweaterdress from Lanvin seen on the cover. "Lilly has an energy about her when wearing clothes. So to get her interacting with the garment, waving and twirling the long pieces that wrapped, and wearing a dress that moved was great for the shoot's mood," Ramsey said. Below, check out a behind-the-scenes photo from the shoot.