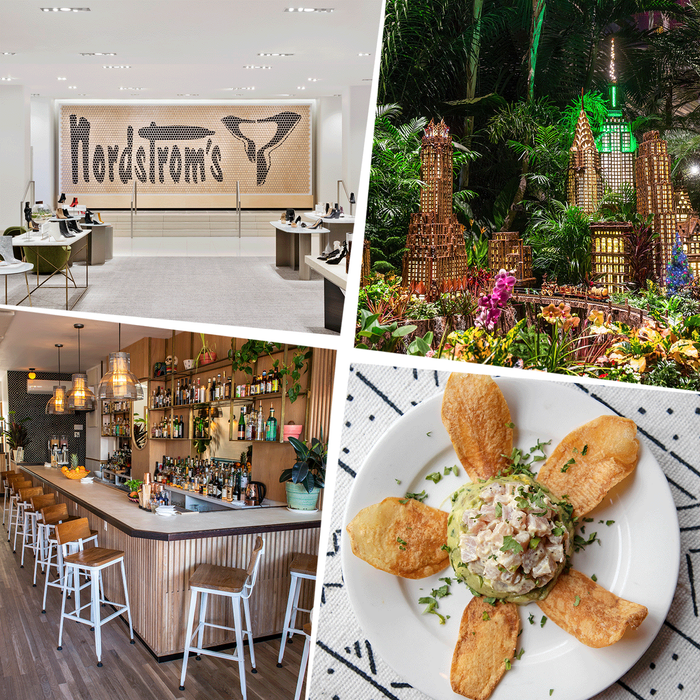 Photo: Courtesy of the retailers
Planning the perfect weekend in New York is a total artform. In a city where there's so much good food, culture, and shopping that you can't possibly squeeze everything into a 48-hour window, it's more about editing down your list of where to go than desperately trying to fill the time. To help with that culling-down process, we asked the Cut's Fashion Partnerships Editor, Indya Brown, to choose her 10 favorite spots around Manhattan and Brooklyn. From her favorite low-key bar to her ultimate shopping destination, these are the spots you'll want on your weekend list.
For a Fun Friday Night
Cafe Rue Dix
It's easy to stay within the accessible nest of Manhattan if you're visiting New York for a long weekend, but you'd also be cheating yourself. As soon as you step into Crown Heights's Cafe Rue Dix, you instantly feel like part of the neighborhood. With intimate lighting and rustic decor, the restaurant specializes in Senegalese cuisine. Make sure to try its specialty Sengalese coffee!
Goodlife BK Bar
I stumbled upon this place one night on a whim, and it's quickly become my spot. It's almost like a bar where everybody knows everybody (my friends have literally met other acquaintances randomly), while still keeping a sophisticated, uptown vibe. Go for the unique drinks. Stay for the amazing DJs.
For a Full-But-Not-Too-Full Saturday
Nordstrom
The retail giant finally touches down in the city with the opening of its first NYC flagship in the heart of Columbus Circle. Less department store, and more immersive experience, the seven floor flagship (two of which are exclusively dedicated to wellness and beauty!) also houses seven restaurants and bars including a mochi donut shop, and an offshoot of the popular Seattle restaurant, How to Cook A Wolf. After stuffing your face, I suggest perusing the floors to discover its wide selection of designers from Balenciaga to Ganni and Topshop. Where else can you get a facial at FaceGym in between shopping for the newest sneakers and picking up your alterations? (Yes, they offer express tailoring.) I could go on, but seeing is believing.
Teranga 
It's about time that pan-African cuisine gets the fast-casual dining treatment. Teranga serves a unique fusion of Nigerian and Ghanaian staples, from jollof bowls to spicy plantains.
Hanoi House
If you need another spot for a perfect meal, go to Hanoi House. Someone once told me they have the best pho, and in a city like New York, that's quite a bold claim. Fortunately, this restaurant didn't let me down, and now I ecstatically recommend it anytime a friend asks where to go for amazing Vietnamese food.
Porgy and Bess at the Met Opera
A show full of emotion, Porgy and Bess is unlike any opera you've probably seen before. It's especially worth the watch since it's the first time Porgy and Bess has been at the Met in almost 30 years.
For a Relaxing Sunday
New York Botanical Garden
Here's a secret: Most New Yorkers know about the botanical garden, but few have actually been. With 250 acres of vast greenery here, it's hard to believe that you're still in NYC, or any city, really. There's always something to do, even in colder months: daily activities and rotating exhibitions that showcase the full splendor of nature.
Jason Moran Jazz Exhibition at the Whitney Museum
If heading to a garden isn't your scene, then you can stay comfortably indoors at the Whitney. Manhattan's rich history as a cultural hotbed for Jazz greats is rolled into this incredible exhibition, a multimedia experience curated by award-winning jazz pianist Jason Moran. It features weekly performances by Moran and his trio against replicas of Manhattan's most famous jazz clubs, along with visual art displays and video footage from the era.
Gucci Wooster Bookstore
What exactly can you pick up in a designer bookstore? This is the place to find out. Last year, the Italian luxury house expanded its Wooster boutique to feature a selection of titles curated by David Strettell of Dashwood Books. It's a treasure trove of beautiful, glossy art and photography books, with a mix of new and out-of-print titles. Bibliophiles, expect plenty of gems here.
Mikey Likes It 
No, this has nothing to do with the iconic cereal commercial. It's a small ice cream shop tucked away in the East Village, where each very likeable flavor is named after a well-known pop culture reference. I especially like "Mint Condition" and "Ice Ice Baby." The perfect treat after a weekend of fun!
This is paid content produced for an advertiser by New York Stories. The editorial staff of The Cut did not play a role in its creation.