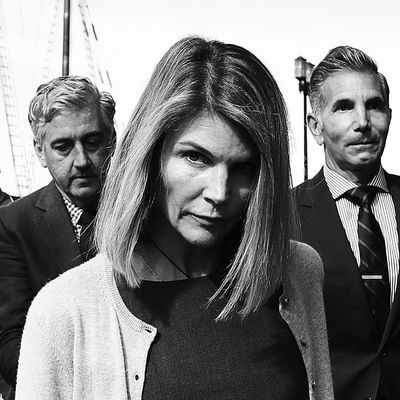 Lori Loughlin.
Photo: John Tlumacki/Globe Staff/Boston Globe via Getty Images
Lori Loughlin and Mossimo Giannulli are facing a slew of serious federal charges over their alleged role in the college-admissions scandal that rocked the nation's elite earlier this year. If found guilty on all charges, the Full House actress and her designer husband could face up to 45 years in prison. But according to Good Morning America analyst Dan Abrams, the couple will likely walk away with a much more lenient sentencing: two to three years.
In an interview with People, Abrams pointed out that Loughlin and Giannulli are facing similar accusations as Toby MacFarlane, another implicated parent who was sentenced to six months in prison after pleading guilty to the charges against him. Both MacFarlane and the husband-and-wife duo were accused of paying William "Rick" Singer, the man who orchestrated the scam, a large sum of money to get their two children into the University of Southern California. (MacFarlane paid $450,000, and Loughlin and Giannulli paid $500,000.) Additionally, Abrams pointed out that the parents also all lied about their children's athletic backgrounds to get them into the school as recruits.
"It's almost the same amount of money," Abrams told People. "It's two kids. It's faking the profiles, etc."
But while MacFarlane was charged with one count of conspiracy to commit mail fraud and honest-services mail fraud, Loughlin and Giannulli are facing two additional charges: bribery and conspiracy to commit money laundering. Abrams told People that MacFarlane pleaded guilty to the charges against him, meaning he has "accepted responsibility" for his crimes. Loughlin and Giannulli, conversely, have entered not guilty pleas.
As a result, Abrams told People, "I wouldn't be surprised if [Loughlin] got two to three years if she's convicted." It's unclear when Loughlin and Giannulli will be sentenced, but it likely won't be for a few more months — so it remains to be seen how much time they'll actually spend in prison.