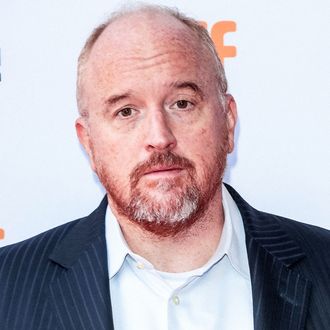 Louis C.K.
Photo: Brian de Rivera Simon/WireImage
One of the five women who accused Louis C.K. of sexual misconduct in a 2017 New York Times report has come forward publicly for the first time to clear up an important part of her story. Julia Wolov, one half of the comedy team Dana & Julia, wrote a piece for Canadian Jewish News this week, and its title gets right to the point: "Counterpoint: I Didn't Consent to Louis C.K. Masturbating in Front of Me." Wolov wrote the piece in response to an op-ed the site published from Toronto comedy-club owner Mark Breslin last week titled "Why I Brought Louis C.K. Back From the Dead," in which he got several facts about the C.K. story wrong, most importantly the claim that the women gave C.K. their consent before he masturbated in front of them. "Contrary to Breslin's accounting, what C.K. did was not done with consent. We never agreed nor asked him to take all his clothes off and masturbate to completion in front of us. But it didn't matter because the exciting part for him was the fear on our faces," Wolov writes. "Just as it must be very exciting for Breslin to be one of the only comedy clubs to book Louis C.K. and write about it in the Canadian Jewish News."
Breslin, who owns the Toronto comedy club Yuk Yuk's, wrote the initial op-ed to explain why he recently welcomed C.K. to his club to perform eight shows over five nights and how financially successful the run of shows turned out to be, noting that the club broke a record with how fast the shows sold out. "Tickets were seen on resale sites selling up to $1,000 a ticket," he wrote. (Breslin also mentions a Vulture article he was featured in back in January, in which 17 club owners said whether or not they'd book C.K. at their venue. Breslin said yes at the time, adding, "We should only be so lucky to book him.") He goes on to say that he "conducted an unscientific market survey" among people he knew to hear people's thoughts on the C.K. controversy and concluded that "a lot of people felt he had been treated unfairly," which ultimately led to his decision to book the comedian at Yuk Yuk's.
Wolov also takes issue with the way Breslin wraps up his article, in which he talks about C.K. revealing onstage that his grandfather was a Hungarian Jew who escaped the Nazis. When Breslin heard this, "I felt even better about my decision to book him," he wrote.
"Since Breslin seems to take pride in his Judaism, he should know that four of the five women from the Times article are Jewish. The author's attempt to convince himself and the Jewish community of the validity of supporting C.K. by saying he is part Jewish is shameful," Wolov writes, adding that she receives "consistent hate mail" and even death threats from C.K. supporters: "Did this factor into the author's 'unscientific market survey'?"
"We too work in comedy. We will probably never make tens of millions of dollars to lose. Louis C.K. is still very wealthy," Wolov continues. "Although we may never have the stature to perform at Yuk Yuk's, we will continue to navigate our careers the best we can. So, when you pat yourself on the back for Louis C.K.'s career resurgence and helping your business thrive, maybe think about the human beings encumbered in this story."