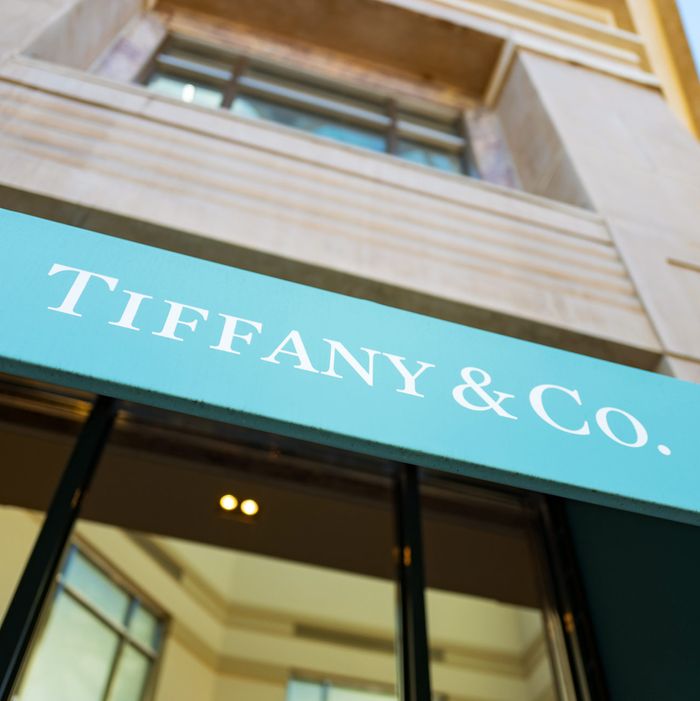 Photo: Smith Collection/Gado/Getty Images
Luxury conglomerate Louis Vuitton Moët Hennessy has added Tiffany & Co. to its shiny tiara of luxury labels, which already includes Christian Dior, Givenchy, and Marc Jacobs. LVMH paid $16.2 billion, all in cash, for the iconic jewelry store. It's the brand's most expensive purchase, following $13 billion for Christian Dior in 2017.
Rumors that LVMH would buy Tiffany's have been circulating for months. Reuters reported in November that LVMH's first offer of $14.5 billion was rejected for being too low. An extra billion and a half did the trick. Antoine Arnault, CEO of Berluti and son of Bernard Arnault, CEO of LVMH, announced the buy on Instagram with a lone Tiffany blue tile and the caption, "Welcome!! ☺️"
Tiffany has spent much of the past decade trying to generate buzz (and attract millennial customers). The brand has orchestrated high-profile collaborations with the likes of Grace Coddington, hired Reed Krakoff as chief artistic director, and sold cheeky, expensive household items like a $1,500 gold paper clip (which seems like something Supreme would do). Sales have been down all year, and holiday 2018 was disappointing, but it can still bring to the table 300 stores worldwide, a legacy name, and a growing customer base in China. It has also hired Daniella Vitale, former CEO of Barneys, to work on the brand's image and in-store experience. LVMH, on the other hand, is valued at about $215 billion, and heritage brands like Louis Vuitton and Gucci are enjoying a resurgence in popularity.
Anyway, congratulations to LVMH and Tiffany & Co. on tying the knot. Can I interest you in a cushion cut, Tiffany-set, pavé-band ring?