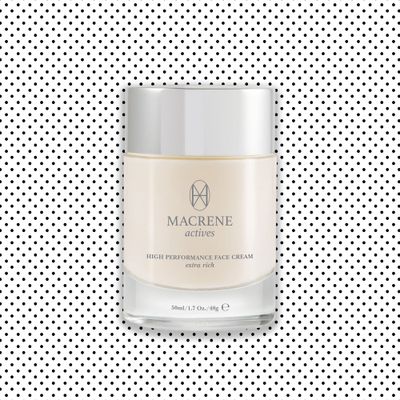 Photo: Courtesy of the Retailer
When it comes to my own beauty regimen, I don't profess to be 100 percent clean, green, or nontoxic; an apt description would be selectively clean. Nevertheless, I do appreciate when an anti-aging product uses naturally derived active ingredients and refrains from adding fragrances or mineral oil, two elements that my skin has never taken too kindly to. And I really appreciate when it seems to be working, which is the case with Macrene Actives High Performance Face Cream, a moisturizer brewed on a farm update.
The cream is just one product from New York dermatologist Macrene Alexiades's recent relaunch of her prestige skin-care line, formerly known as 37 Actives. The ten-year-old line has acquired a posh following (Alina Cho, Gucci Westman, designers Gabriela Hearst and Cate Holstein), but a few years ago, Alexiades felt like it was time to make a change, so she set about reformulating every product, using only clean active ingredients (the ones that focus on things like smoothing out wrinkles, diminishing dark spots, and exfoliating surface skin cells).
But that wasn't enough. She wanted to grow her own. So two years ago, Alexiades purchased 14 acres of woodlands in Dutchess County, two-plus hours north of Manhattan. The land hadn't been farmed since it was a Christmas tree farm 30 years ago, so the soil was pesticide-free. Within days, she had planted echinacea, St. John's wort, arnica, milk thistle, and comfrey. Come spring, they'll be joined by sorrel, fennel, lemongrass, lavender, mustard plant, and loads more.
"It's more like 50 actives now," says Alexiades, who imports her olive oil from another farm, in Greece. "Once I start isolating the active ingredients in the plant extracts, though, I anticipate each jar will contain hundreds of them."
If you buy something through our links, New York may earn an affiliate commission.