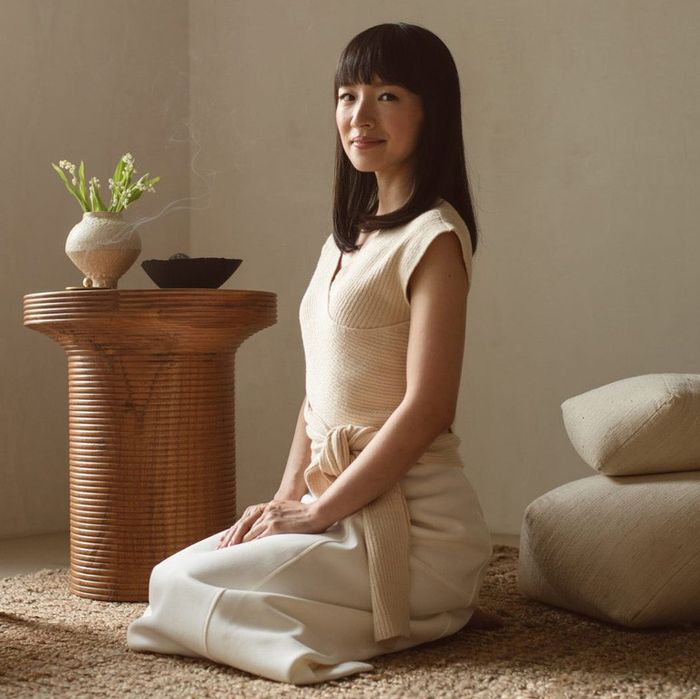 With a best-selling book and a hit Netflix show under her belt, organizational guru Marie Kondo has entered the inevitable next phase of empire-building. On Monday, the Tidying Up star and creator launched a web store selling around 125 home and self-care objects that "spark joy."
Named after her famed KonMari method, which encourages decluttering by contemplating whether or not an object sparks joy for its owner, Kondo told The Wall Street Journal that all products for her new web store went through a thorough "joy check" before being listed, which involved touching and using the objects herself. Some are those that she already used in her everyday life, and roughly half were sourced from her native Japan.
"The goal of tidying is to make room for meaningful objects, people and experiences," Kondo writes on the KonMari website. "I can think of no greater happiness in life than being surrounded only by the things I love."
If it seems like Marie Kondo is telling you to tidy up to buy more stuff, that's because she is. What kind of stuff? She's a big fan of taking baths, so there's a whole section dedicated to robes, towels, soaps, etc. Plus a $12 sharp-looking Shiatsu stick, which can be used for acupuncture. She's also selling aromatherapy tools like candles, oil diffusers, and something called "motivation mist." Plus cooking, kitchen, and tabletop accessories, like a $96 brass ladle. Kondo also uses a tuning fork in her everyday life to help her "reset." Of course, you can purchase one with a crystal included for $75 on KonMari.com.
Kondo's ways have already inspired people to declutter their homes, drop off their clothes at Beacon's Closet, and head to the Container Store. Now that they've got an empty house, though, they'll inevitably want to fill it back up again with Kondo-approved objects. Smart woman! She knows that what really sparks joy in all of us is online shopping.