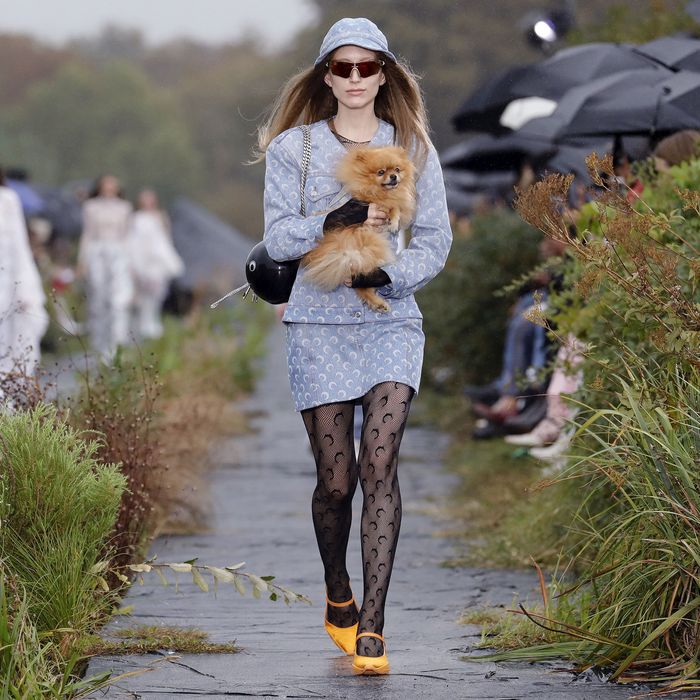 Photo: Thomas Samson/AFP via Getty Images
Fashion has always been about what's new and next, but young designers like Marine Serre are finding ways to recycle the overwhelming amount of material that we already have, and incorporate it into their collections.
Some might call it "up-cycling," the environmental term du jour for turning one woman's trash into another woman's treasure. But Serre, who is 27, prefers the word "regenerated" in reference to her work. "To me, it means to grow something after damage," the designer told the Cut. "To bring a new and a more vigorous life to things, renew existence, generate again … "
In the past, Serre has transformed everything from scarves to tablecloths, to bed blankets into luxury garments. Her materials come from a range of sources — driftwood used for jewelry, for example, came from her mother's friend, who combs beaches. This season, 50 percent of her fall collection was "regenerated," including white gowns made of towels.
Serre's favorite part of the process is visiting warehouses around Europe for scraps, and meeting the employees who deal directly with the garments. "They can tell you what is changing in people's consumption from what they see people throw away," she explained. To her, the process is poetic: "Searching in the garbage of the world for the treasures that remain."
Below, see how three different discarded materials — tartan plaid, denim, and knits — magically become Marine Serre garments. It's really soothing to watch…
Tartan Plaid
Denim
Knitwear