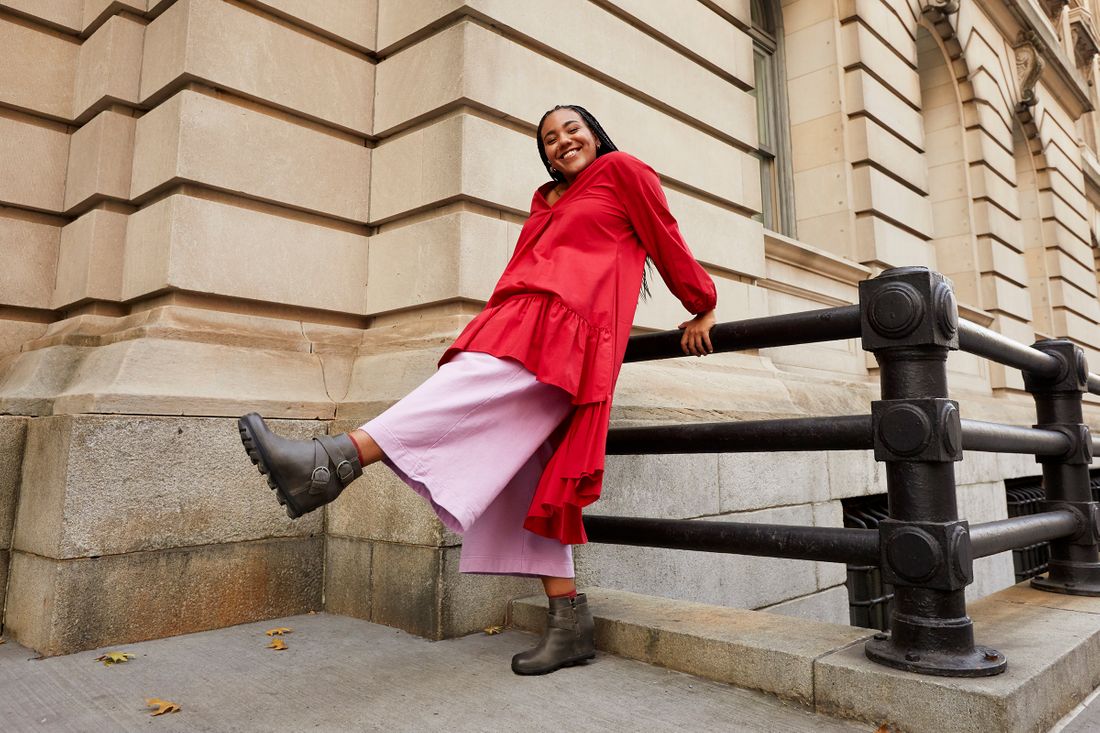 Perhaps without realizing it, you've likely read one of Tanisha Pina's articles before. She's the type of person you might come to if you want to find the best shampoos for curly hair or the designers to know before they get big. Call her a beauty and fashion aficionado, and she has the bylines to prove it. Her extensive style knowledge is partially due to her former role as a Racked market editor, but after leaving there in 2018, Pina now curates partnerships for Warby Parker as its associate brand manager. She's responsible for rounding up fashion's cool new faces and melding their unique styles with the eyewear brand's DNA to produce one-of-a-kind collaborations, like the brand's colorful handbag collab with a certain goddess of color.
Outside her day job, Pina's still a fashion and beauty writer. Working in a professional office while maintaining the freelance hustle means she needs outfits that transition from daytime meetings to fashion events at dusk. "I try to keep in touch with other editors and publicists, so some days I catch up with them over breakfast before heading into the office," says Pina. "Having a fashion uniform gives me one less thing to worry about." She relies on pieces that pull double duty, like her SOREL Joan Buckle Wedges, which feature a fancy-yet-comfortable wedge and decorative buckles. (Because who wants to worry about aches after walking a long day?) In partnership with SOREL, we caught up with Pina to discuss her life as a writer, how she curates her style, and how she finds fashion inspiration.
On starting her career in fashion:
I grew up during that period of time where television and film were really focused on the idea of the fashion workplace, so I think my interest stemmed from there. I'd always loved clothes and celebrity and Hollywood, so it was a natural, tangible progression of those interests. Because I like to write, I decided on the magazine route. Right before I graduated college, I sent a bunch of cold emails to the names in the mastheads of all my favorite magazines at the time. I ended up getting an internship at a fashion magazine with no connections and no previous experience, so it was really just luck. I moved to New York a couple weeks after graduating.
On her day-to-day:
The only thing about my daily life that stays consistent is that my boyfriend and I usually start by debating whose turn it is to take our dog out at 7 a.m. I like to get ready fairly quickly. I then spend the rest of my day in and out of meetings, answering emails, and taking calls. If there's a fashion or beauty event, I'll stop by before I go home. I typically have stories to write, so I carve out an hour while my boyfriend makes (or orders) dinner. The night usually ends with an hour of my favorite reality television shows before bed!
On how being an editor influenced her style:
Being a market editor requires you to really do your research on everything — past, present, and future — way beyond what you might consider your own personal style. I was exposed to a lot and developed a greater appreciation for quality and fit. More than anything, it highlighted just how fleeting trends are, and subsequently helped me develop a uniform of basics that I return to over and over again that I know work, and that I feel comfortable and confident in.
Shoes, to me, are one of — if not the most — interesting part of any outfit. I shop for them under two circumstances: Either I want them to be a statement, maybe playing with a new trend or color I wouldn't invest in with clothes, or an updated staple in a classic neutral color that I can wear with anything and everything. My SOREL Joan Buckle Wedges fall into the latter category and were comfortable enough to wear for a full day of running around. I like that they're stylish for all the different events I go to, and are easy on my feet when I'm running to and from the subway.
On balancing her freelance life and fulltime job:
I rely pretty heavily on my to-do lists, which I always map out in order of urgency. I write them out instead of jotting them down in an app, because I like to physically cross things off my list; it gives me some peace of mind. Since I have a fulltime job, I can't make it to even half of the appointments and events I used to be able to as an editor, so communication is really key for me. If I can't make something or can't take something on, I've learned over time it's OK to just say that instead of overcommitting to things and eventually burning out.
On how she formulates her style:
I don't really have style icons. I'm usually most inspired by random people I see walking around New York City. There are times though when I look to certain figures on Instagram to see how they style things and take fashion risks, especially people who aren't sample size. My weight has fluctuated a lot in the past few years so I always try to get inspired by others with similar body types to rethink how I wear my clothes.
On her fashion evolution:
Generally, my style has remained pretty consistent over the past five years. However, my budget has definitely evolved, along with my knowledge and care for how clothes are made, what they're made of, and who's making them. I still reach for the same silhouettes and styles, but I wear a lot more vintage and make more investment purchases.
On her favorite trends of the season:
Chunky, borderline gaudy gold chains. Also, lug-soled boots, like my SOREL Joan Buckle Wedges. I'm also really leaning into wearing a sweater over my shoulders, true to form to my New England roots.
This interview has been edited and condensed.
This is paid content produced for an advertiser by New York Stories. The editorial staff of The Cut did not play a role in its creation.