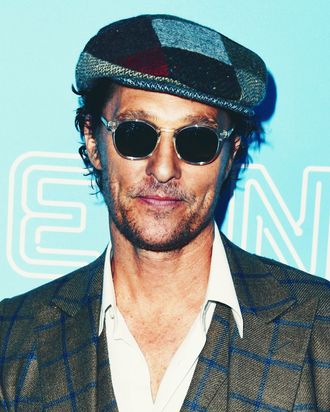 The face of a pickle expert.
Photo: Jon Kopaloff/FilmMagic/Getty Images
Matthew McConaughey doesn't come off as the type of guy who holds back on expressing his true character. He's a professional shirtless man. He's a YouTuber. He's a Chill Dude who loves fanny packs, the beach, and Team USA. And yet, when he made the decision to join Instagram today, he admitted in his first post — a goofy video featuring Friends-esque font — that he is slightly nervous about "sharing [himself] and [his] views with the world."
I was shocked to hear these words leave his mouth, as I thought I had a pretty solid grasp on Who Is Matthew McConaughey. But when I looked at his bio — in which he identifies as a husband, father, AustinFC supporter, etc. — I came across a descriptor that has led me to question how well I really know him: "Pickle expert."
"Pickle expert" isn't the only descriptor in McConaughey's bio that initially drew my attention. I also got caught up on "Minister of Culture" and "JKLivin," but was able to decode them after some light research. (The University of Texas gave him the "Minister of Culture" title, and j.k. livin is his and his wife's foundation that funds fitness and wellness programs for youth.) But even after consulting my best investigative tools, I have not been able to find any information related to McConaughey's alleged pickle expertise.
I'm perplexed. To start, he doesn't address this expertise in his first Instagram post. In an interview he gave to Us Weekly in January 2017, in which he reveals 25 facts that people don't know about him, he said, "If I'm indulging in fast food, I'll have the double cheeseburger with bacon and jalapeños from Sonic." (Okay, but … no mention of pickles?) And the most suspicious detail of them all: McConaughey has never tweeted the word "pickle" or "pickling" from his official Twitter, which he started in 2009. Wouldn't a real pickle expert tweet about their passion at least once over a ten-year time period?
We can only hope that his pickle expertise is one of the things about himself that he says he's "looking forward to sharing" on Instagram.