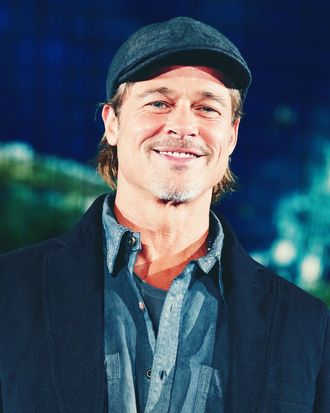 Photo: Christopher Jue/Getty Images
Brad Pitt and his trusty newsboy cap were recently spotted in an L.A. art gallery, attending an event for "LA on Fire," an exhibit showcasing artwork focused on Los Angeles fires. Photos from the event – which was curated by New York contributor Michael Slenske — show Pitt, in loose linen and sneakers, observing the pieces and chatting amiably with other attendees, as if he just swung by before lunch at Whole Foods:
Also in attendance was Arrested Development actor Alia Shawkat, who appears to be chatting with Pitt in photos. According to LaineyGossip, Pitt and Shawkat seem to have come to the event together and spent most of their time there with each other.
The images have led people to wonder if the two actors might be more than friends, which is usually what happens when Brad Pitt is spotted with a female human. But it seems more like Pitt is just hanging out with his cool, millennial art buddy. This is, after all, the woman who just wrapped a performance of The Second Woman in New York, a show in which she reenacts one breakup scene with 100 different men over the course of 24 hours. She's also has spent the last few months at various indie-movie premieres, tweeting about unrest in the Middle East, and was just in this Beck music video. Who wouldn't want to hang out with her?
LaineyGossip also dug up an old paparazzi shot of Pitt and Shawkat leaving Ethan Cohen's A Play Is a Poem in L.A. back in September, which yeah, could mean dating, but again makes me think that Brad probably just loves drinking smoothies and doing art things with his rad friend Alia around L.A.
Anyway, if he really is buddies with Shawkat, I love that for him, and want to apologize for ever thinking his newsboy cap was dorky. To be honest, I kinda like it.
Update: Since the images surface, E! News has reported that the pair are just friends. A source told the outlet: "They've spent time together and have similar interests, but that's the extent of it. They are not a couple and there's nothing romantic going on. Brad has different friends in different walks of life and this is one of them. He enjoys being social with friends."
This story has been updated with new information.