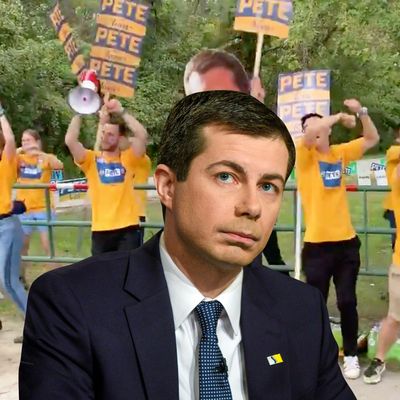 Photo: Getty Images, @rachelvscott/Twitter
Recently, "Mayor Pete" Buttigieg's 2020 presidential campaign has summoned the power of dance to energize its supporters, stringing together a series of simple movements set to Panic! at the Disco's "High Hopes."
But dance is a fickle mistress, and no sooner had videos of Buttigieg campaign staffers clapping and spinning their arms gone viral, than people began posting their own versions of the dance on social media, criticizing Buttigieg's centrist policies.
In a video posted on TikTok, for example, New York University student Jake Colosa re-created the dance, adding captions mocking Buttigieg's various platforms, like "Medicare for all who want it," "Mandatory military service," and "All lives matter (I don't want your votes)."
The video closes with the caption "Mayo Pete 2020," a play on the fact that Buttigieg is "bland and overwhelmingly white," Mel Magazine explains.
Soon, others began adding to Colosa's video, creating a longer and longer chain of dance TikToks, shared on Twitter by New York Times reporter Taylor Lorenz. In the series, users criticize the candidate's policies, his wealthy and corporate backers, and ironically pump their arms to captions like, "Talk about milquetoast policies in 8 languages," "Being a billionaire bootlicker," and "Hating poor people."
"This is the dance my insurance company does when denying my claim," wrote one user, referencing Buttigieg's middle-of-the-road Health Care for All Who Want It platform.
One Temple University student who made his own version of the "High Hopes" dance with his friends, in which he stands with each foot in a garbage can, told Mel Magazine: "We are pretty disaffected with the establishment Dems (like Pete and Amy [Klobuchar]) who are always pushing the status quo and agenda of corporate backers."
So far, none of the videos have touched on Mayor Pete's cinnamon-roll platform.