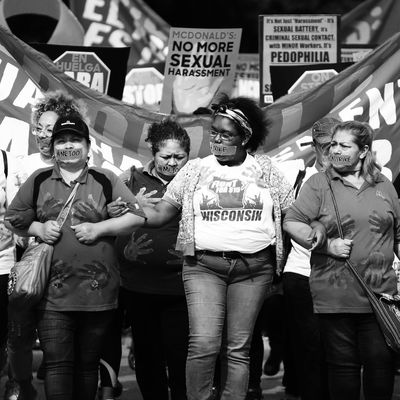 In September 2018, McDonald's workers across the country went on strike over the company's alleged sexual-harassment problem — the first-ever nationwide strike of its kind.
Photo: Scott Olson/Getty Images
Jenna Ries was good at her job. Just weeks after she started as a crew member at a Michigan McDonald's, her manager recommended that she enter a management-training program; she passed and was promoted to a low-level managerial role. But after another employee started to sexually harass her, grabbing her crotch and calling her a "cunt" and "whore" — in front of her co-workers and even the restaurant's general manager — she told the Cut she started to feel "miserable going to work every day." She says she repeatedly asked her supervisor to talk to her harasser or let her transfer restaurants; instead, she was ridiculed at work and her hours were cut. It wasn't until this past March — roughly a year and a half after the harassment started — that she was eventually transferred to another restaurant, while her alleged harasser remained employed at her original workplace. Last week, Ries filed a class-action lawsuit against McDonald's, condemning its "sexually hostile work environment" and the "company culture that enables it."
By now, McDonald's rampant sexual-misconduct problem is no secret: Over the past couple of years, an increasing number of employees have turned to legal and collective action to demand the company listen to its most vulnerable workers. Last fall, hundreds of McDonald's employees walked out of their workplace to participate in what organizers say was the first-ever multistate strike against sexual harassment. And according to lawyers representing workers, more than 50 claims and charges of harassment are currently pending against McDonald's in courts and at the Equal Employment Opportunity Commission.
In the past year, McDonald's has instituted some anti-harassment workplace policies — notably, an anonymous reporting hotline and sexual-harassment training. However, many feel these steps are inadequate. In a statement to the Cut, McDonald's said the company is implementing "Safe and Respectful Workplace Training in 100% of [the] corporate-owned restaurants." However, franchisees, who own 95 percent of the company's restaurants in the U.S., are not required to offer the training, though McDonald's claims they're working to change that. (Meanwhile, McDonald's former CEO Steve Easterbrook was fired earlier this month following revelations that he violated company policy by engaging in a consensual relationship with an employee.)
We spoke to Ries and three other women about their experiences with McDonald's toxic work environment.
'I was harassed constantly.'
Jenna Ries
Mason, Michigan
Says the harassment started in 2017; filed a class-action lawsuit in November 2019
I noticed sexual harassment pretty quickly after I started working at McDonald's. And it wasn't just directed toward me, but other employees as well. There was a lot of grabbing, touching, tickling, punching, and weird things like sticking their fingers in each other's ears. Just a lot of physical contact, and a lot of talking inappropriately back and forth. I knew it was pretty inappropriate from the beginning, but I didn't say anything until one person became more aggressive toward me. I was harassed constantly; my crotch and breasts were grabbed; I was called names like bitch and slut and whore. People also told me that I was terrible at my job, which convinced me that I was going to get fired, even though I know I was really good at my job.
Every time I went to my supervisor about the harassment, they would brush it off and act like it wasn't a big deal. They said they'd talk to him, but any time that happened, the harassment would get worse. I was miserable going to work every day, having to deal with that over and over again. It got to the point where I had to ask for a transfer and I was told I couldn't have one, even though I specifically told them I wanted to transfer because I was being sexually harassed. I was beyond stressed out because I also wasn't getting as many hours as I usually did, I think because I was complaining. My complaint was being joked about throughout the store. I cried every night when I went home, and cried every day before I had to go in. I didn't matter to anyone.
I did eventually get a new job at another McDonald's, but one that didn't pay as much and didn't give me as many hours. It was hard meeting a whole new group of people and wondering if I was going to have the same problems with them. I didn't want to be around people in general because I had lost all my trust in everyone.
'It felt unsafe, humiliating, disgusting.'
Barbara Johnson
St. Louis, Missouri
Says the harassment started in 2017; filed a complaint with the EEOC immediately after helping lead the multistate strike in September 2018
I've worked in fast food since I was 15 years old — I'm 19 now — but I only worked at McDonald's for one month because it was such a humiliating and intimidating work environment.
During my time there, I was sexually harassed by two individuals. One of them would say perverted, sexual things to me. Once when I asked if he could make me a McChicken sandwich, he said, "I got your McChicken right here," and grabbed his genitals. The other one, a shift manager, would make sexual comments that scared me, but I felt I couldn't react because that type of behavior seemed to be accepted at McDonald's. I was extremely uncomfortable, intimidated, and did my best to ignore him. It got so bad I asked to change shifts, but two weeks later, my supervisor switched me back onto a shift with the harasser. I got the impression he asked to be put on the schedule with me because he kept saying things like, "I got my girl back." His comments only got more inappropriate and aggressive from there. His words would have terrified anyone, but I am a rape survivor and they made me feel sick.
I did not receive any training from McDonald's about sexual harassment, and I did not see a number to call to report. I felt like I had no options. It got to the point where I couldn't handle the thought of working there anymore. It felt unsafe, humiliating, disgusting. I felt I had no other choice but to quit, even though I didn't have another job lined up, and I have a baby son whom I support.
'They made me feel like I was the problem.'
Kim Lawson
Kansas City, Missouri
Says the harassment started in 2017; filed a complaint with the EEOC in May 2018
I started to experience sexual harassment a few years after I started working at McDonald's. My co-worker would always compliment me and try to give me things, and then it escalated to him standing uncomfortably close to me, pretty much directly in my face. That led to him brushing up against me. I didn't talk to anyone at first because I kept thinking he'd leave me alone eventually. But when it didn't stop, I knew I had to tell someone. I tried to tell my general manager, but he didn't do anything about it. As a result, I had to always be on guard at work, and that made working really hard. I felt like anything could've happened at that restaurant.
Not long after I reported that co-worker, I started to get sexually harassed by a shift manager. He would make really lewd comments to me about my body, and talk about things like how nice my butt is, and tell me that I should leave my boyfriend. Since I reported that first person and nothing was done about it, I didn't even bother reporting this shift manager. Instead, I cut my own hours so I wouldn't have to deal with him as much. This was really hard on me financially because I was barely getting paid, and I could barely make ends meet. I was actually homeless at the time, so I was in a really, really bad place. I felt like nobody cared. I felt alone.
When I was terminated, I felt like I was the one being punished for something done to me. [Lawson believes her termination was retaliatory, and currently has a pending claim of sexual harassment and retaliation against McDonald's.] They made me feel like I was the problem when I was the victim. I worked hard and I liked my job, but under those conditions, I couldn't go on with that work. Most of the days after I was terminated were pretty rough. I had no home. There were days that I couldn't eat anything because I wanted to feed my daughter.
'McDonald's has mostly ignored us.'
Jamelia Fairley
Sanford, Florida
Says the harassment started in 2018; filed a complaint with the EEOC in May 2019
I'm a crew member at a corporate-owned McDonald's in Florida. I've been working here for four years, and I've been harassed by two co-workers. One of them would make sexual comments like "I'll take you on a ride" and telling me I had a "fat ass." Then he started touching me, like pinching my butt and pushing me into his groin area. The other one asked me what it would cost to have sex with my daughter, who was 1 year old at the time.
I reported both of these men because I knew I had to stand up for myself. But after I spoke out, my hours were cut, making it almost impossible to support my daughter. And even though the men don't work in my store anymore (one was fired and another was reportedly transferred to another restaurant), they have come back as customers in an attempt to intimidate me while I'm trying to work. When I asked to transfer stores because of harassment and retaliation, the only store they would allow me to transfer to was the one where my harasser now works.
We've been asking McDonald's to sit down with us and hear our stories as survivors. But McDonald's has mostly ignored us. In October, I was part of a group of survivors that interrupted CEO Chris Kempczinski and told him he needed to sit down with us, but we got kicked out of the building. Now that he's the CEO, I hope he'll change his tune, but so far nothing has really changed.
These interviews have been condensed and edited. This post has been updated to include a statement from McDonald's.