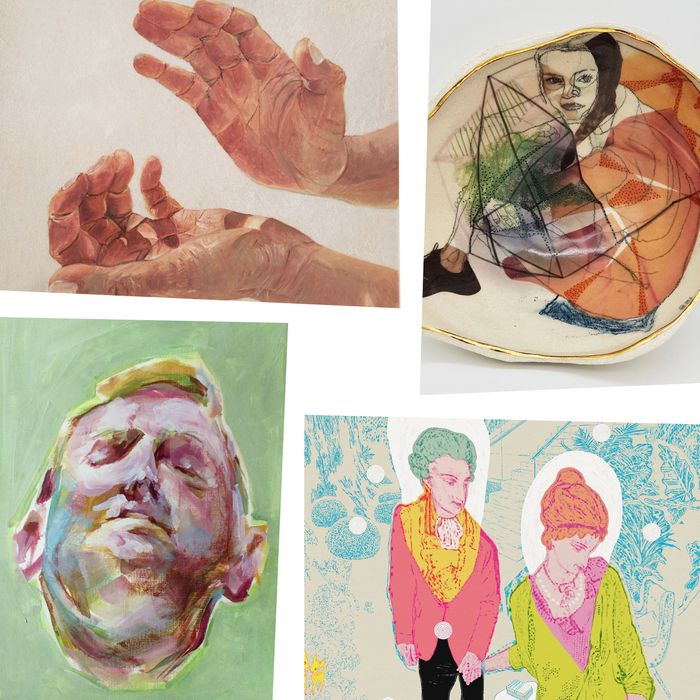 Photo: Clockwise from top left: Caroline Gutierrez, Yurim Gough, Steve Moors, Sasha Brito.
Forget about sterile galleries, snooty attendees, and ultra-expensive pieces. The Other Art Fair, which is coming to the Brooklyn Expo this weekend, offers a welcoming and accessible alternative to art show stereotypes. The biannual event is known for its support of emerging talent and is a jumping-off point for many art careers. Read on to meet ten of the 130 talented exhibitors you'll see this weekend.
Furong Zhang was raised in Shanghai during the Cultural Revolution, and his surrealist oil paintings reference the experience of being caught between multiple cultures.
"My paintings deal with my memories and experiences of dual histories — one of my native country, China, and the other of my subsequent journey in America, where I currently reside," he says. "I am interested in and inspired by the dynamics between exterior systems and inner dialogue, material person and soul."
The process to create one of Yurim Gough's unique ceramic stoneware bowls is a long one. Working with live models, she begins by drawing their figure on the bowl, and then bisque firing it. Then she adds images — layering, firing, and glazing as she goes. She repeats the process up to five times for a single piece.
"I only draw life drawings because the human energy provokes my artworks and that is very important for me," Gough says. "So I only draw from a live model. From my art you can see what is going on at the moment, not the past or future. I want to show what is now."
Nadia Jaber creates her bold collage prints by combining acrylic paint, airbrush, and pastel on multiple canvases, and then stitching them together. For her newest collection, Jaber says she is "reflecting on how social media influences and transforms our visual spectrum."
Emily Shopp's work combines printmaking with collage, layering etchings and woodcuts on top of each other with semi-transparent paper. (She is also in the process of transitioning from traditionally toxic printmaking materials to non-toxic, environmentally friendly ones.)
Inspired by the outdoors, Shopp's work "focuses on creating a meditative visual space inspired by the calming effect of a natural environment," she says. "Each piece starts with a natural object I've collected as a jumping-off point, and explores the lines the object creates."
Simple-T is a conceptual fine art photographer whose work invites onlookers to "find out what is behind a facade." Her latest project, "Alone no more," is a personal reflection on her relationship with her partner. "This is intended to be a homage to life, expressing the joy and happiness of finding my partner and being alone no more."
Heath Kane's multimedia work ranges from large acrylic and oil pant canvases to screen prints and sculptures. Described as a "cynical take on pop-art," his pieces challenge the fascination and romance our society has of the past.
"My approach still follows the practice of design thinking, with a focus on creating simple, iconic and memorable pieces," he says. "I try to distill subtle but often subversive themes."
By meddling with color and form, Sasha Brito creates dreamlike portraits that are neither hyper-realistic, nor too abstract — but a surreal in-between.
"The point is to paint everyone with broad paint-strokes and vibrant colors in such a way that defies the boundaries of old school conventional portraiture," she says. "They defy the real so that the people they portray become different personas altogether."
Dawn Beckles's art turns the classic still-life genre on its head by incorporating vibrant colors, contemporary settings, and flora inspired by her native Barbados.
"For me, everything starts with a neon base," she says. "Then I slowly cut back the neon. I will find either a room layout or table display that I find appealing, and I will set about dressing it to reflect my current experiences."
Steve Moor creates his detailed, hand-drawn images on a tablet with a digital pencil. He then prints the illustrations, and mounts them on black aluminium.
Moor sees his art as a vehicle for human connection: "My work is an ongoing 'page by page' continuous book of social commentary — each addressing specific aspects of human interaction and condition."
Carolina Gutiérrez creates her unique pieces by painting on animal skins, a medium that stems from her interest in imperfections.
"We are what is visible in our skin; that makes us readable and therefore vulnerable," she says. "My painting wants to explore that vulnerability — that risk we encounter when under the gaze of others."
Pieces by the artists will be on display at The Other Art Fair from Thursday, November 7 to Sunday, November 10 at the Brooklyn Expo Center.