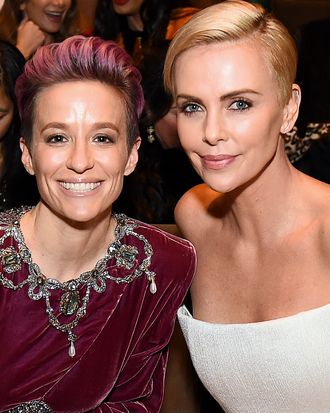 Photo: Ilya S. Savenok/Getty Images for Glamour
This has been a year of looks for Ms. Charlize Theron. She's had faux baby bangs, Megyn Kelly hair, and the kind of 'do people got mercilessly teased about in junior high: the bowl cut. Nowadays, she seems to be sticking to a shorter length, wearing her hair in a sleek, sideswept look for the Glamour Women of the Year Awards, which she attended on Monday. Who's the inspiration for her current look? Well, it appears to be none other than Megan Rapinoe!
As People reports, Theron was given the very cool-sounding "Rebel" award at the event, and during her acceptance speech she alluded to the soccer star and World Cup champion as being the inspiration behind her haircut. "The women in this room tonight are putting themselves on the frontlines of the empathy battle, via through storytelling, creating opportunities for those who need it most, or just unabashedly being yourself and telling other women, 'We don't have to apologize for who we are or what we are,'" Theron said, as she gestured to her hair and made eye contact with Rapinoe, who was in the audience. "And I'm looking at you, Megan. This is all you."
Rapinoe, whose famous pink-hued haircut was done by celebrity hairstylist Riawna Capri, was also honored by Glamour at the event. She took home the "Champion" award.
While Theron's pixie looks nice, I was hoping the bowl cut would stick around a little longer. Perhaps she can bring it back with more Rapinoe influence and dye it pink! After all, if anyone can pull off a pink bowl cut, it's Charlize Theron.