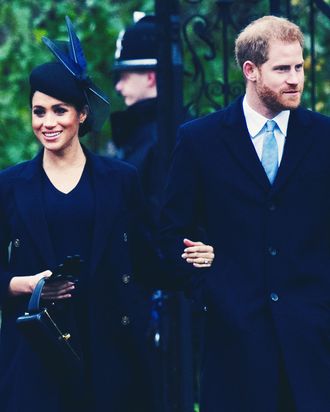 Photo: Samir Hussein/WireImage
This holiday season Meghan and Harry are switching up their Christmas schedule, The Sun reports. A source told the tabloid that the royal couple plans to pass on the usual Sandringham festivities because they "need some time away to recharge and decide their plans for next year."
This would seem like a perfectly reasonable choice given that they're new parents to 6-month-old baby Archie. They also had a six-week break scheduled anyway, which again, reasonable, they've been busy. They've recently returned from a diplomatic tour of Africa, and have been engaged in various tabloid-related lawsuits.
The Sussexes have spent the last few years at Sandringham, and it's been Harry's Christmas go-to except when he was in Afghanistan in 2012. As such, the British press have been quick to point out what a gross display of bad etiquette it is to skip Yuletide festivities with Her Majesty and Prince Philip, who are both just shy of 100 and possibly have other things to worry about.
But Sandringham is no walk in the park: It's three full days on a hyperstrict time schedule that involves gendered breakfast (grapefruit for women; a "full English" for the men), several public church visits, and five outfit changes.
Instead, Meghan and Harry will be spending the holiday with Meghan's mom, Doria Ragland, in Los Angeles (Meghan hasn't visited home since she got married). So happy Sandringham-free holidays to the couple!