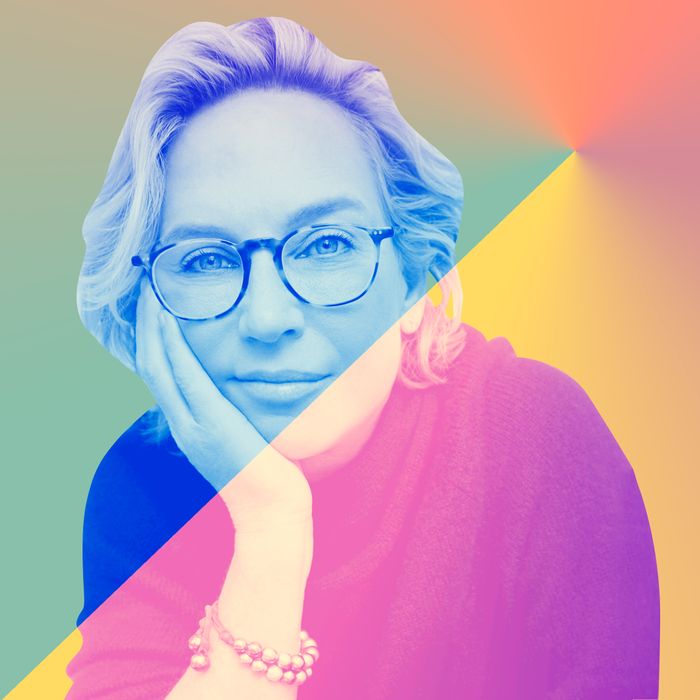 In 2012, Melisse Shaban had left her job as CEO of StriVectin and was pondering her next move when a colleague asked her to check out a new technology that was being developed in a regenerative medicine lab. The technology also appeared to have hair-repairing qualities.
"The team of scientists had figured out how to remove the outer cuticle from virgin hair and extract the keratin protein without damaging it," remembers Shaban, who would go on to launch hair-care brand Virtue Labs. "The lab's purpose was to use it to help with bone tissue and neuro-regeneration as well as radiation burns and skin healing, but an intern in the lab, whose family was in the salon business, thought it might be beneficial for hair, and that's where I came in."
Shaban grew up in the beauty business. Her father was an executive at Revlon, and while she was never a product junkie, she was fascinated by consumer data.
"I loved figuring out why people purchased what they purchased, trying to understand those patterns and figuring out how to affect the business through the data," explains Shaban. "I kept track of it all, playing with the math on a legal pad."
After college summers working the Revlon counter at Macy's (yes, Revlon was a department-store brand back in the early '80s), she became an account director at the company until she met Horst Rechelbacher. The former hairstylist had recently founded a holistic beauty brand called Aveda, and he brought her on as a consultant. Six months later, he offered her the job of president.
"Of course, I wasn't at that level yet, but I think he did it to be spiteful — not to me, though!" explains Shaban. "Horst always thought there were too many men around. He believed that men should not be running a business where women were the primary customers. He was a huge proponent of strong women running businesses."
She went from one beauty renegade to another, leaving Aveda to join Anita Roddick, founder of the Body Shop. From there, she became CEO of Frederic Fekkai, then Nia 24 and StriVectin, before forming what would become Virtue Labs.
"The world didn't need another hair-care line," admits Shaban. "But the world sure could use a biotech company that helps heal damaged hair."
Shaban spoke with the Cut about her favorite fashion label, the merits of a good pickle, and why she's always turning down the thermostat.
What's your definition of beauty? A sunrise in Jackson Hole, Wyoming. It's so big and glorious, it makes looking in the mirror seem small and insignificant.
What do you think when you hear the term "clean beauty"? I think as an industry we're headed in the right direction, but we're not there yet. It's evolving. It's great that consumers are really starting to think about what they put on their bodies as much as what they put in their bodies, and the industry is doing a much better job. But it can also be confusing. The standard to define "clean" beauty is yet to come.
Where, if anywhere, are you not quite that "clean," "green," or "sustainable"? I don't have an electric car yet. I have young kids and I still drive carpool in gas-guzzling SUVs. Of course, those young kids want a Tesla.
Please fill in the blank as it pertains to something connected to your beauty routine: I think about ______ a lot. My aging process, and about getting comfortable with it.
What is the opposite of "beautiful"? Our politics right now.
What is your morning skin-care routine? It usually includes Biologique Recherche P50.
What's the last beauty product you use every night? MBR Cream Extraordinary.
What aspect of your beauty routine tends to be neglected? I don't moisturize my body enough.
What, if anything, is usually on your lips? A curse word.
What shade, if any, is usually on your toes and/or hands? Deborah Lippman Naked on my hands and Grey Day on my toes.
What makeup item would you never skip? Foundation. I use Hourglass Veil Fluid Makeup.
Facial cleanser of choice: M-61 Power Cleanse and M-61 Power Glow Peel.
Fragrance of choice: Anything Le Labo.
If a makeup shade were named after you, what shade would it be? Nude.
Bath or shower? Both! Bath with Epsom salt, and a shower with Byredo products.
What beauty product still needs to be invented? A real solution for hair growth.
What was your first beauty product obsession? When I was 12, I discovered the Revlon fragrance Charlie. I'll never forget seeing Shelley Hack wearing a Ralph Lauren pantsuit as a powerful and confident businesswoman. Those ad images were groundbreaking and really the start of a revolution.
Daily carry-all of choice: YSL black leather knapsack.
Who makes your eyeglass frames? Today I'm wearing Oliver Peoples aviators with rose-gold tinted lenses. But it changes every day.
How do you like your bed? Cold. I can't sleep hot. But frankly, it's usually crowded with kids and a dog or two.
How do you like your living room? Full of friends with martinis.
What do you splurge on? Food, wine, and The Row.
What is your classic uniform? Rag & Bone jeans, Gucci belt, and a white button down from The Row.
What shoe are you usually wearing? A Robert Clergerie wedge because I need a little height, but I also need comfort. I also just bought a pair of Nikes with a wedge that was created by an all-female design team.
Current favorite fashion item in your closet: A Gabriela Hearst navy suit that I wore to the InStyle Awards honoring Virtue's creative director Adir Abergel as the 2019 Hairstylist of the Year.
When you check into a hotel room, what's the first thing you do? Turn down the temperature in the room.  Then check the bathroom.
What is your own personal definition of misery? Donald J. Trump.
What is your own personal definition of glee? Watching my children grow and thrive.
What was the most recent interesting conversation you had? With Dr. Luke Burnett, Virtue's chief science adviser, about how the technology in our products is also helping to improve the quality of life of wounded soldiers.
What would the name of your autobiography be? She Batted 500.
Who would star as you in the film adaptation? Frances McDormand.
Favorite smell? The scent of Virtue Restorative Treatment Mask.
Least favorite smell? That smell in Vegas that's kind of like Febreze over cigarette smoke.
What do you think Pantone's color of 2020 should be, and why? A tranquil teal.
What do you most often disagree with others about? We live in contentious times and it's tough, but I do enjoy a good debate about politics.
What must you adjust or fix when you see it done incorrectly? Basically everything. How a table is set, how the towels are folded in my house. It's an attention to detail that was drilled into me by Horst Rechelbacher.
What calms you down? A glass of Brunello.
Favorite cheese: Black Truffle Pecorino.
Comfort food: Lasagna from I Sodi in the West Village. Everything Rita Sodi does in her kitchen is magic!
Vice snack (or just vice): Bubbies kosher dill pickles. My kids love them, too.
Most impressive dish you make: Barbara Lynch's Bolognese. What makes it really interesting is the addition of a little bit of chicken liver — it adds so much complexity, and it's delicious.
What do you foresee as the top beauty trends for 2020? Paying as much attention to your hair as you do to your skin, because, let's face it, it's your greatest accessory. And also a movement toward technologically advanced products with ingredients that are also safe.
What product in your domain is misunderstood and should be a best seller? Virtue Split End Serum, because people don't believe that it's really possible to mend a split end. But we can dispel that myth, with clinicals to prove it.
What product is currently your favorite (understanding that this could change all the time)? Virtue Restorative Treatment Mask. Literally, it is transformative, in as little as three minutes.
If you won the Power Ball tomorrow, what are the first five things you would do? (after, of course, donating the majority of it to your top charities…) Buy a house in Jackson Hole, take care of my entire family, donate more to political candidates that I feel passionate about and think will really make a positive impact, take all of my friends on an amazing vacation, and hire a personal chef and a housekeeper who comes every day.
Not to get too philosophical, but … what do you want? To have no regrets.